Ukraine striker says expectations got too high after Sweden win
Last Updated: June 17, 2012 3:32pm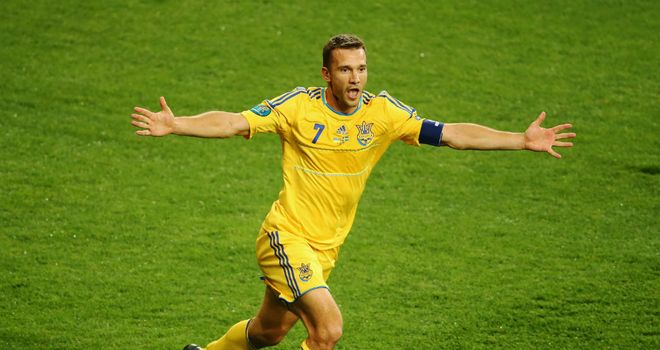 Andriy Shevchenko: Ready for a difficult game against England on Tuesday
Andriy Shevchenko is expecting a tough test against England on Tuesday and has called on Ukraine fans to get behind the team.
The co-hosts need to win to make it through to the quarter-finals after following up their victory over Sweden
with a loss to France.
England stand in their way and Wayne Rooney
will be back in Roy Hodgson's team following suspension, but Shevchenko
knows there is more than one danger man.
"France played a great game (against us), especially in the second half. But we know that we still have the chance to go through, although the game against England won't be easy," the veteran striker said insport.rbc.ru.
"France and England are two great teams. We know we have to play much better against England than we played against France.
"In the next round Wayne Rooney will be back. We'll see how he plays, but it's not only one man who plays the game.
"I know he's a very good footballer who can change his team's play very much but the whole English team is very strong."
Horrified
Shevchenko had to contend with criticism of his performance after the defeat by France, having been hailed as a hero a few days earlier following his match-winning contribution against Sweden.
He believes expectation levels rocketed too high after that first game and has urged supporters to back the team in Donetsk on Tuesday.
"I would hate to think my last memories of playing for Ukraine were being booed by my own supporters. The very thought horrifies me," said Shevchenko.
"I know some of the supporters got frustrated because we lost to France and I also accept that we will have to radically improve if we are to have any chance of beating England.
"But we will achieve absolutely nothing if our own fans turn on us when we play England.
"The country needs to get behind us. There is no point singing just when your team are winning."
He added: "The euphoria that followed the win over Sweden got out of hand. We tried to play down expectations but it was almost impossible to do so. As co-hosts I accept there was always going to be enormous pressure on us.
"But in a way I think the win over Sweden made things far worse than they already were."