Spaniard not underestimating neighbours ahead of semi-final
Last Updated: June 25, 2012 5:13pm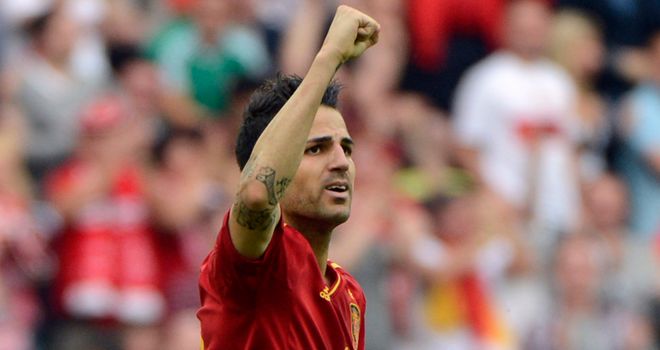 Cesc Fabregas: Refusing to underestimate Portugal ahead of semi-final
Spain midfielder Cesc Fabregas believes Portugal will prove dangerous opposition in Wednesday's Euro 2012 semi-final in Donetsk.
The defending champions are favourites to retain the title, butBarcelona
man Fabregas
does not believe they should underestimate Portugal.
The former Arsenal
midfielder had plenty of chances to see Portugal's star player Cristiano Ronaldo as he helped Real Madrid
win La Liga
last season and he is also wary of the talents of Manchester United
winger Nani.
Fabregas told Marca: "I think they play a different system from Real Madrid, but one of Portugal's strengths is having Ronaldo and Nani.
"If I were the coach of Portugal I would play on the counter. They can do much damage, but surely if we defend very well together we will have a good game."
Despite the obvious talents of Ronaldo and Nani, Fabregas has warned about ignoring the potential danger of Portugal's other players such as Chelsea's
Raul Meireles, Porto's Joao Moutinho andGenoa's
Miguel Veloso.
He added: "You have players like Moutinho or Meireles that hold the ball very well, and others of the quality of Veloso, so they may surprise you in many ways."
Threat
Xabi Alonso
revealed Spain did not have any special plans in place to deal with the threat of Ronaldo.
Alonso, who plays alongside the forward at Madrid, scored both goals as Spain beat France in the quarter-finals.
He told a press conference: "We have nothing planned to curb Cristiano. We can make small adjustments on the fly, try to be close together and as close to the opponent, as we always do."
As well as facing Ronaldo the game will see Alonso take on other club-mates Pepe and Fabio Coentrao.
He added: "I see all three have continued their great performances during the season. This does not surprise me.
"Portugal are in a great moment, they are powerful, and we know the danger they pose."