City boss calls for change domestically to help England progress
Last Updated: June 25, 2012 3:10pm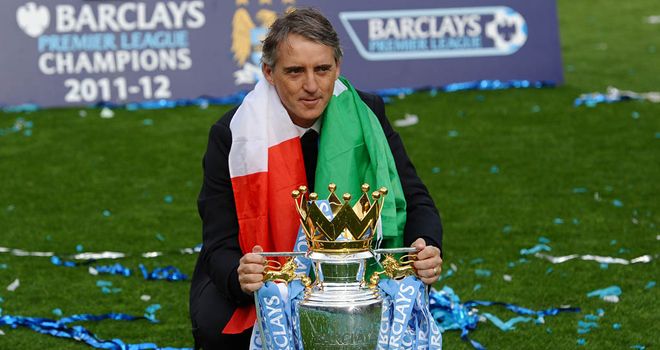 Roberto Mancini: The Manchester City boss says league schedule holds England back on world stage
Roberto Mancini believes England will never win a major tournament until the Premier League introduces a winter break.
The Manchester City
manager's comments to an Italian radio station come just hours after England limped out of Euro 2012 on penalties after a gruelling two-hour game against his countrymen.
England's build-up for the tournament was hampered by the resignation of Fabio Capello in February, leaving current boss Roy Hodgson just weeks to prepare.
But Mancini insists fatigue after a long Premier League season was a bigger factor in their tournament exit than a change at the top.
Dead tired
"Fabio Capello has done a great job with England," he told Rai Radio 2. "And if he were on the bench still Italy would have had to try harder.
"I think the British players pay for the fact of playing continuously for 10 months without a break.
"Then they arrive at the competitions dead tired. They usually attack, not defend as in this European Championship."
Italy's penalty shoot-out win sets up a semi-final against tournament second favourites Germany, while Portugal take on European and world champions Spain in the other with Mancini backing more upsets.
"The final match," he added. "I foresee Italy against Portugal."