Unlike England, Germany can threaten us, says Italy maestro
Last Updated: June 26, 2012 8:39pm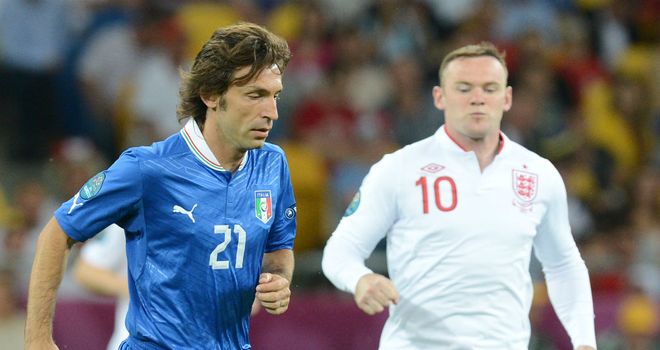 Andrea Pirlo: Expecting a tougher test against Germany after a majestic display against England
Italy playmaker Andrea Pirlo expects Germany to offer a far greater threat than England in their Euro 2012 semi-final on Thursday.
Pirlo was the pivotal figure in Sunday's quarter-final victory over the Three Lions on penalties, dominating the game with his passing before converting a cheekily chipped spot-kick.
And while he admits the Azzurri will be hoping to produce a similar performance against the Germans, he acknowledges it will be a very different game.
"Our approach to the game against Germany will be the same as against England," said the 33-year-old.
"This is the only way we can play. But unlike England, Germany can create many threats to our defence.
"England played a very prudent and careful way. They were sitting back all the match, like Chelsea did in the Champions League final.
"They tried to keep that same shape. For them going to the penalty shoot-out was a good result."
It did not prove such a good result for England in the end and Pirlo was not guilty of false modesty when assessing the importance of his penalty.
"It was really relevant to the match and our win," he added. "This (penalty) changed the course of the match.
"(Joe) Hart seemed to be very confident in himself and I needed to do something to beat him. Penalties are a very personal thing and it seemed to be a psychological blow."
Ballon d'Or
It has been suggested that an Italy triumph at Euro 2012 would put Pirlo in contention to win the Ballon d'Or following his central role in helping Juventus go unbeaten through the Serie A season to lift the title.
But having been overlooked in favour of Italy team-mate Fabio Cannavaro in 2006, despite claiming the man of the match award in the World Cup final, Pirlo is not expecting the award.
And the midfielder knows he will not get the same space he enjoyed against England when he faces Germany.
"It is impossible for me to win the Ballon D'Or because Lionel Messi and Cristiano Ronaldo score 70 goals a year," he said.
"There have been many games in the past when I've had as much possession as against England.
"In football it happens.
"The difference is against Germany, whereas Wayne Rooney stayed further up I expect Mesut Ozil to be a great threat in and around the areas where I am playing, even though he will not necessarily do a man-marking job on me."