Influential midfielder should shake off nagging injury to feature
Last Updated: June 25, 2012 9:43pm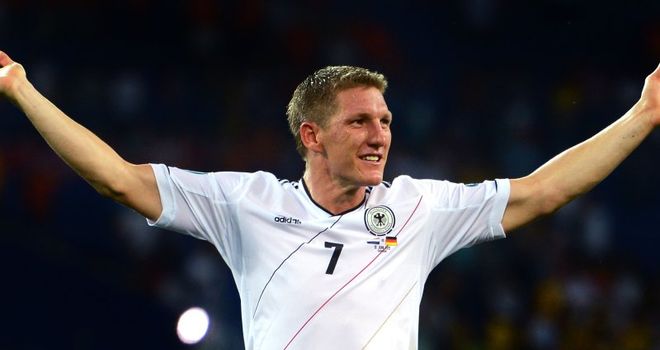 Bastian Schweinsteiger: Missed two days' training but should play against Italy
Germany are confident influential midfielder Bastian Schweinsteiger will be fit to face Italy on Thursday.
Schweinsteiger has started all four of Germany's games at Euro 2012 so far despite a nagging ankle injury sustained in February.
The player admitted on Sunday the pain in his ankle had robbed him of some of his speed and movement and he missed two days of training.
However, he returned to team training on Monday afternoon looking fit and goalkeeping coach Andreas Koepke said he expects the midfielder to play against Italy in Warsaw.
"He does have a minor problem with his ankle. He did not train for two days and treated it intensively," Koepke said.
"Today, however, he is expected to return to training and should be ready to play on Thursday."
Fellow midfielder Mesut Ozil wants his influential team-mate in the side as Germany eye a spot in the final on 1st July in Kiev and a shot at their first trophy since 1996.
He said: "Bastian is a world-class player and he is a leading player in our team. I hope he can be fit in time for the game."