Versatile midfielder set to undergo tests after sciatic nerve problem
By Nadia Carminati. Last Updated: June 25, 2012 7:23pm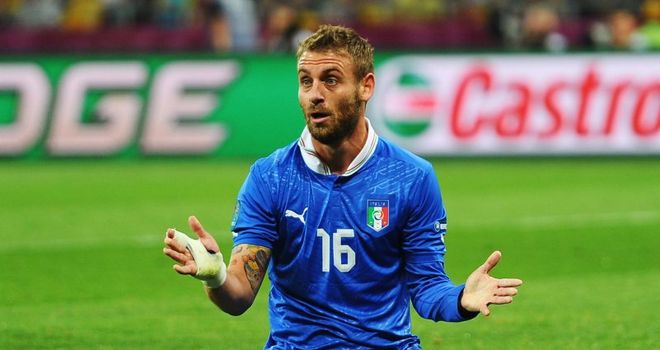 Daniele de Rossi: In a race against time to be fit to face Germany
Italy boss Cesare Prandelli is waiting on the fitness of Daniele De Rossi ahead of Thursday's Euro 2012 semi-final with Germany.
The Azzurri dominated Sunday's quarter-final victory over England and struck the post through De Rossi
before the 28-year-old had to be replaced on 80 minutes due to a problem with his sciatic nerve.
The versatile midfielder was set to undergo tests on Monday to give a better indication of the situation but the Italian team's medical staff hope to get him fit in time.
Meanwhile, Prandelli wants his side to take risks against the Germans on Thursday.
Not defend
"We have to take risks and not defend in our penalty area," he said at the team's base camp.
"I'd prefer it if they (Germany) scored on the counter-attack than have us defend constantly for 20 minutes."
He added Germany play with a lone striker, with wide midfielders who attack and give depth as well as a "false nine".
"But tactical aspects is the least of our problems, we're still good at finding a balance," he added, pointing out that Italy had 68 per cent of possession against England.
"When you've got this capacity, you've got to exploit it."
Prandelli also said he was disappointed that Germany, who played their quarter-final last Friday against Greece, winning 4-2, had two extra days of recuperation than his players.
"UEFA has to sort out the calendar problem. Either we extend the tournament or we find solutions. If not, we'll have less-than-entertaining finals," he added.