The German skipper will edge closer to 100 caps against Italy
Last Updated: June 26, 2012 4:15pm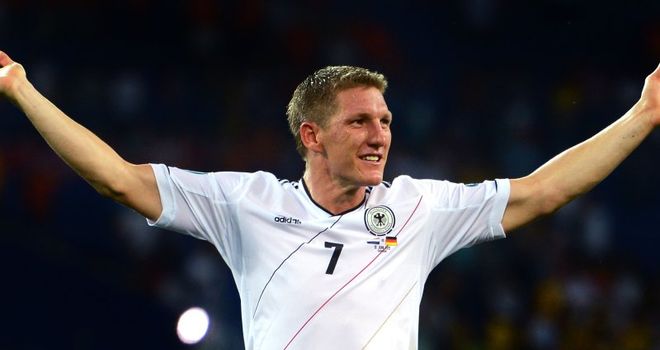 Bastian Schweinsteiger: The Bayern Munich star is given the all-clear to lead Germany against Italy in the their Euro 2012 semi-final
Bastian Schweinsteiger has won his race to be fit for Germany's Euro 2012 semi-final showdown against Italy on Thursday.
The influential midfielder had been struggling to shake off an ankle injury and it hampered his quarter-final performance against Greece.
But Germany boss Joachim Low insists the Bayern Munich
man has taken part in full training and is back to his best ahead of the match.
"Schweinsteiger
had problems, but it's not as if these were hindering him," Low said. "Against Greece he was poor, but he realises that himself. Against Italy that won't happen.
Leader
"There are only 100% fit players. No player will run out if he is only operating at 80 or 90% capacity. All players are fit, I assume Schweinsteiger will play."
The return of their talismanic skipper will give the entire squad a lift ahead of the game according toMesut Ozil.
"There's no question about it. We need Schweinsteiger," he said. "He's a class player, he's one of the leaders.
"I admit that he's been injured, but I think that he's on a very good track. I really do hope and keep my fingers crossed for him to get fit on time."
Ozil added: "Our objective is to bring the trophy back to Germany. That's what we're here for and I'm convinced we can do it."