Lazio striker will not be giving Germany boss the Low down on Italy
Last Updated: June 26, 2012 4:50pm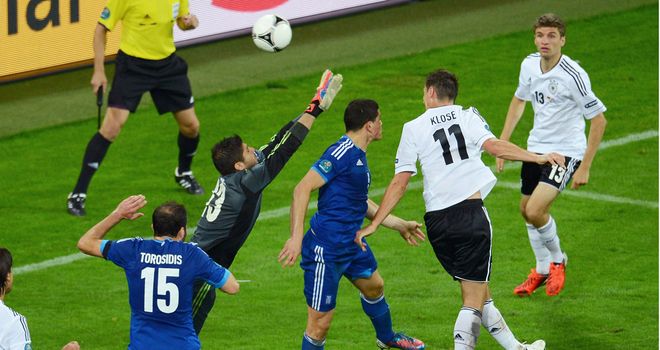 Miroslav Klose: The Germany striker will be hoping to keep his against Italy after his Euro 2012 quarter-final goal against Greece
Miroslav Klose has turned down the chance to give Germany coach Joachim Low the inside track on Italy ahead of their Euro 2012 semi-final clash on Thursday.
The German camp did not suffer from having a spy in their camp earlier in the competition when team news was leaked to the press ahead of the quarter-final against Greece as they won with ease.
But Klose,
who spent the season in the Italian capital having joined Roman side Lazio
last summer, believes Low will have done his homework so thoroughly that he will have nothing new to add to his preparations.
"I don't need to give the coach any tips," said Klose. "Our scouts have watched Italy many times, the coach knows what to do."
Italy made hard work of getting past England despite outplaying their opponents with the impressiveAndrea Pirlo
pulling the strings from midfield.
There have been calls from some in the German press for Low to assign a player to man-mark the playmaker out of the game, but he dismissed them out of hand saying: "That would make no sense."
Low believes that Germany's best chance of securing their place in the final on Sunday would be to stick to the plan that has seen them cruise through the tournament unbeaten so far.
"The Italians have a very different team from 2010 and excellent progress behind them," he added.
"They have good strengths, a lot of quality. But we also know where their weaknesses lie, where they have their problems.
"We have to bring our own game, not focus so much on the opponents. If we manage to do that, then we have a good chance."
The only headache for Low ahead of the game is which of his prolific strikers will get the nod with Mario Gomez,
joint top-scorer in the tournament so far with three goals, vying with Klose who thanked the coach for his start against Greece with a goal.
"I am assuming that I will play," the experienced Klose added. "That's what I am preparing for in any case. But we are lucky to have two top strikers. We'll wait and see which one the coach will pick."