If he can play for Great Britain he will be a real asset, says Brazilian
Last Updated: June 26, 2012 4:33pm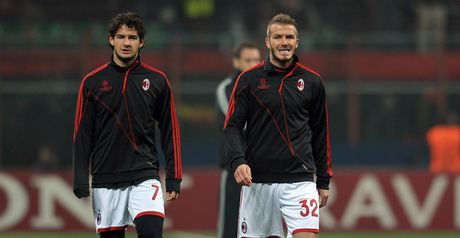 Alexandre Pato is backing former team-mate David Beckham to bring a lot to Great Britain's Olympic team
AC Milan's Brazilian star Alexandre Pato is hoping to avoid a Great Britain Olympic football team that includes David Beckham.
Pato is preparing to feature in his second Olympic Games and aiming to deliver a gold medal having won bronze with Brazil in Beijing four years ago.
The 22-year-old played alongside Beckham, who is on Stuart Pearce's 35-man shortlist for Team GB, for two seasons at Milan from 2008 to 2010 and feels the 37-year-old could be a threat.
"David has a lot to give in terms of his professionalism, in training, his expertise and his experience," Pato said.
"As a passer, a shooter, a free-kick expert he is a great asset and we do have to be very careful with him in these positions.
"If he can play for Great Britain at the Olympics he will be a real asset."
Difficult
Brazil face Great Britain in a pre-Olympics friendly at the Riverside Stadium on July 20th - and Pato hopes that is the only time they cross paths in the coming weeks.
"I hope I will only meet them in the friendly because in the Olympics they will be a very difficult side to beat, especially at home," Pato added.
"This will be the third time London has hosted the Olympics and football is very important here and I think Great Britain will be going for the title.
"Football is very important in Brazil and of all the times we have played at the Olympics we have never won a gold medal.
"In Beijing we won the bronze, which wasn't what was expected of us. But for me, getting that medal stirred up great emotion.
"If that was the emotion in winning the bronze I don't know what it would be like to win gold."