Everton boss insists he has not been approached
Last Updated: June 16, 2012 9:00pm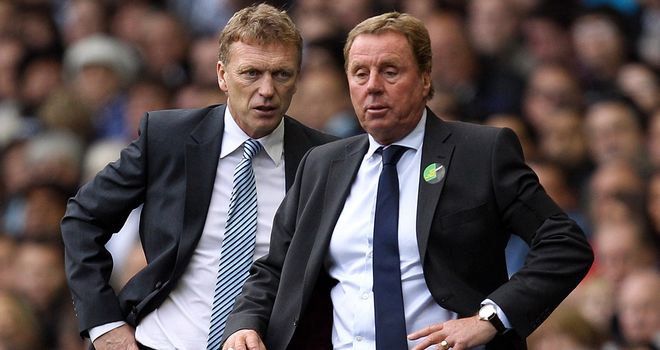 David Moyes: Everton manager insists he has not been approached by Spurs
Everton boss David Moyes insists there has been 'no contact' from Tottenham over their managerial vacancy, but has not ruled himself out of the running.
The Goodison Park manager has been linked with a summer switch to White Hart Lane following Spurs' shock decision to part company with Harry Redknapp in the early hours of Thursday morning.
Moyes celebrated 10 years with the Toffees in March of this year and is highly regarded for his achievements on Merseyside on a relatively limited budget.
"I hope I can fulfil all my ambitions at Everton, but you never know in this game."
David MoyesQuotes of the week
Former Chelsea
boss Andre Villas-Boas remains the firm favourite to takeover in North London with the bookmakers, with Moyes and Wigan manager Roberto Martinez also in the frame.
Ambitions
But the Scot has made it clear that that no-one from Tottenham has made any approach to him in either a formal or informal capacity.
Moyes: "There has been no contact. If there had been contact, the first person I would have told would be the chairman.
"I hope I can fulfil all my ambitions at Everton,
but you never know in this game.
"I came back from holiday and found out about Harry and I feel sad for him because I feel he has done a good job."
Moyes was pressed again on the Tottenham job while appearing as a pundit during Saturday evening's television coverage of Euro 2012.
"I'm ambitious and I want to try to win things and ideally I want to do that with Everton," he said.
Loyal
"We brought in two or three players in January and you could see the difference it made to the club, to the players, to myself, so we want to try and do that again.
"I told my chairman four weeks ago (that money was needed to compete) so for me my concentration is on getting Everton ready for the start of the season, and hopefully getting off to a better one than we've had in recent years."
Asked if a fresh challenge would appeal to him at some stage, Moyes said: "I've always been loyal and I will continue to be loyal to Everton - as long as they want me, I'm happy there.
"I'm ambitious and the players at Everton are ambitious and they want me to push to try to keep the club going forward. We're certainly, with the players we've got, in there competing and trying to do the best we can."