Iceland midfielder talking with Liverpool, among others
Last Updated: June 16, 2012 6:08pm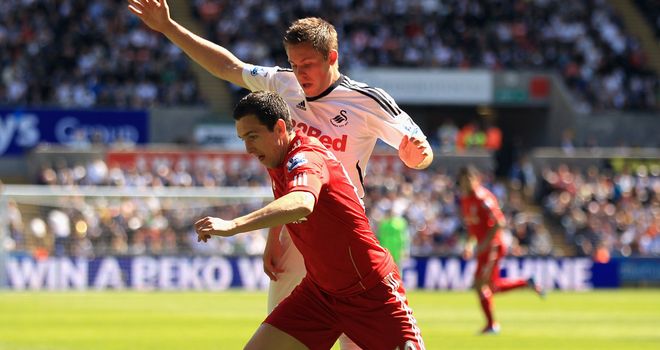 Gylfi Sigurdsson: Fee agreed with Swansea but is now exploring other options, including Liverpool
Sky Sports understands that Gylfi Sigurdsson, who appeared to be on his way to Swansea, is speaking with Liverpool and other Premier League clubs.
Having spent the second half of the 2011/12 season on loan at the Liberty Stadium, the Swans made the acquisition of Sigurdsson's
services on a permanent basis a top summer priority.
A club record £6.8million fee was agreed with Bundesliga outfit Hoffenheim,
with then Swans boss Brendan Rodgers prepared to spend big in order to get his man.
Rodgers has, however, since left his post in South Wales
to take charge of Liverpool.
Discussions
Doubts were immediately raised regarding Sigrdusson's deal with Swansea, with it expected that an approach from Anfield would be on the cards.
Rodgers announced on Friday that he would not hijack any deal that had been put in place, but he is prepared to pounce if the 22-year-old becomes available.
It appears that is now the case, with it understood that transfer talks are being held between Liverpool and Sigurdsson's representatives.
The Reds are not the only side in the running, though, with a man who netted seven times in 19 appearances for Swansea last term generating plenty of interest.