Pool hope to go one step further next season with new recruits
Last Updated: June 26, 2012 4:21pm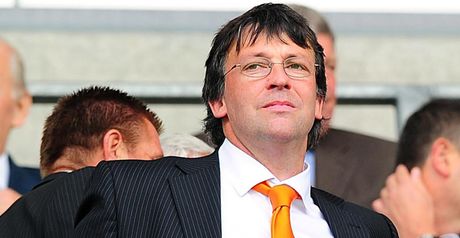 Karl Oyston: Blackpool chairman has been instructed which players to buy this summer
Ian Holloway has given Blackpool chairman Karl Oyston his transfer wish-list ahead of the new season.
Holloway, whose Blackpool side were beaten in the play-off final by West Ham last season, has outlined promotion as his primary goal next term.
The charismatic coach has extensively researched a host of targets and has now identified the three he would like at Bloomfield Road.
All three players are foreign, but that will not deter Oyston from delivering his manager the tools to bring success to the Lancashire outfit.
Research
"I've been speaking to Ian for at least half an hour every day for the past fortnight. He knows exactly what he wants for next season and how he wants to do it," he told the Blackpool Gazette.
"He has done a lot of research on players and has left me instructions about three in particular, all foreign players, who he wants me to chase.
"I will be in direct contact with the clubs concerned, and then with the agents and players, and I will try to progress things. I want to get them signed permanently or, if that can't be done, on loan."
While some managers prefer to sign British players to negate the possibility of them failing, Oyston points to the success the Seasiders have already had with foreign players.
He added: "Undoubtedly, the (overseas) route he is taking is the right route for us. It is almost certainly the best way of guaranteeing the right quality of players for us.
"Look at Ludovic Sylvestre and Angel Martinez - they are fantastic players."