Spain defender aware that a place in the history books awaits
Last Updated: June 29, 2012 4:32pm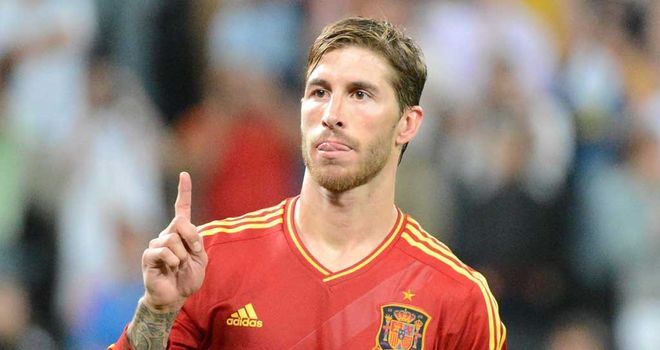 Sergio Ramos: Has helped Spain through to the final of a third tournament in a row
Sergio Ramos is aware that Spain are looking to make history at Euro 2012, but claims they can be proud of their efforts whatever happens against Italy.
The reigning European and world champions will enter Sunday's final showdown with the Azzurri aiming to become the first side to win three consecutive major championships.
Ramos
is aware that success would bring with it a standing alongside the all-time greats, but considers another final appearance to be some achievement in itself.
"We are aware of what we are playing for on Sunday," he said.
Sky Bet Odds
Will Spain become first side to win three consecutive major championships? They're 5/4 to win in 90mins, 10/1 to win in Extra Time and 10/1 to win on Penalties. Click here for the match market!
"It is something that as of today no team has ever achieved. It requires many years of work and sacrifice. No matter what happens we have already made history.
"This hasn't finished though and the icing on the cake would be to return and win the Euros.
"Maybe there are some that don't value it but for the work we have done I think the whole country ought to be proud. Even if we lose we can return with our heads held high."
Control
Andrea Pirlo
has been the key to Italy's unexpected run to the final as the 33-year-old has produced a number of sublime performances, including in the 1-1 draw against Spain earlier in the tournament, but Ramos is also wary of the Azzurri's strikeforce.
"Pirlo is one of Italy's references, he makes the difference and takes control.," he said.
"He is like Xavi in our team, but they are two fantastic footballers. Although we also can't concentrate on one player because Italy create danger with the forwards they have too. The collective is what has got them here.
"We ought to be worried about them but not obsessed. We need to maintain our philosophy of play which is the key to our success."