Irish midfielder keen to put fitness troubles behind him
Last Updated: June 17, 2012 3:34pm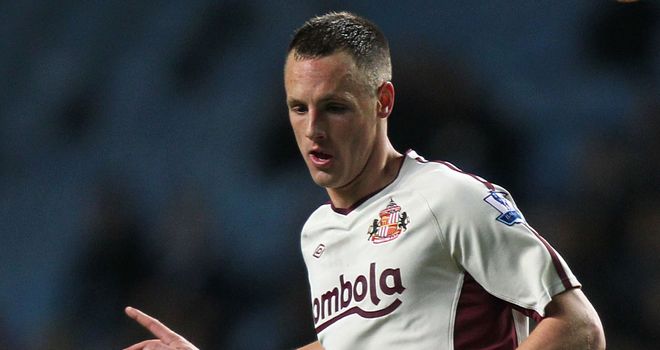 David Meyler: Hoping to reignite his Sunderland career
Out-of-favour Sunderland midfielder David Meyler hopes a first pre-season campaign in four years can give his Black Cats career a much-needed boost.
The 23-year-old has fallen out of favour on Wearside, making only one start for Martin O'Neill's side last season and appearing just eight times off the bench.
Meyler believes his limited inclusion last term was a result of playing catch-up after only returning to the set-up last October following seven months on the sidelines with a second serious knee ligament injury.
Injuries
The Irishman, whose absence last summer marked the third consecutive pre-season he was unable to take part in, hopes all that can change when the Black Cats begin their preparations for the new campaign next month.
Meyler, who joined Sunderland from Cork City in 2008, told the Sunderland Echo: "I haven't had a proper pre-season in four years, since the first one I signed for Sunderland.
"Even when Steve Bruce took over, his first pre-season I got injured through it - hurt my ankle in a tackle.
"It is so hard to play catch up if you miss it.
"When you come back from an injury, you start running, then you join in with the reserves. That's tough and then it's even tougher when you join in with the first team.
"It's harder again when you get to a reserve-team game and the pinnacle of the lot is a Premier League game.
"Lots of players struggle there, never mind if you've been out eight or nine months.
"To come back and reach that level of fitness and to be able to compete in a game of that calibre is tough."
Meyler is determined to work hard to keep himself in shape ahead of the new campaign.
"The sports scientists draw up plans for us to do during the summer," he added. "After you finish, you might have a week or two of doing nothing.
"But then you've got to start straight away again. I'll go hell for leather over pre-season.
Working hard
"At the level we're at, you can't afford to take six or seven weeks off and then come back in and expect to be as fit as you were.
"I know pre-season is there to get you fit, but it's there to take you from that 80 per cent that you should be to the 100.
"You can't put on weight or get out shape. You have to keep working hard."