Czech star struggling with calf injury
Last Updated: June 17, 2012 3:37pm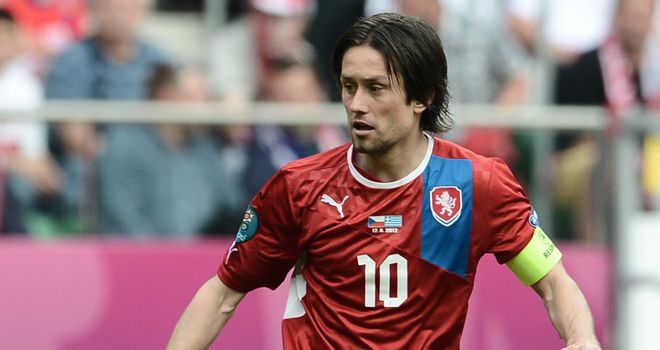 Tomas Rosicky: The midfield linchpin is a major doubt for quarter-final clash
Czech Republic playmaker Tomas Rosicky has admitted he has very little chance of being fit for the Euro 2012 quarter-final after struggling with a calf injury.
The Arsenal
midfielder was ruled out of his country's 1-0 win over co-hosts Poland on Saturday night, which sent them through to the knockout stages as Group A winners.
Petr Jiracek struck the winner with 18 minutes to go at the Municipal Stadium in Wroclaw to send Michal Bilek's team through and means they are likely to avoid favourites Germany in the last eight in Warsaw on June 21st.
But the Czechs are almost certain to be without their 31-year-old captain for the clash.
"There is just a small chance I will play in the quarter-finals but it's really not big," said Rosicky.
"It (his calf) got better during the last few days until Saturday when I wanted to train and I felt pain again."
Irreplaceable
Bilek admits that even if Rosicky fails to make it, he has complete faith in Daniel Kolar, who replaced the midfield maestro against Poland.
"He tried to be fit before this match but he couldn't start so it's very difficult to say whether or not we will have him for the next one," said the coach.
"We hope he will play of course, we will see. Everyone has been doing their best to get him fit.
"Of course we missed him against Poland, he's a great player but we won even without him.
"We know he's irreplaceable but Daniel played a great match and it's not the first time we played without him.
"We did so in Lithuania at the end of qualifying, it wasn't easy. Daniel gets compared to Tomas a lot but he's a very different player."