Defender backs Germany team-mate to show fans what he can do
Last Updated: June 15, 2012 4:26pm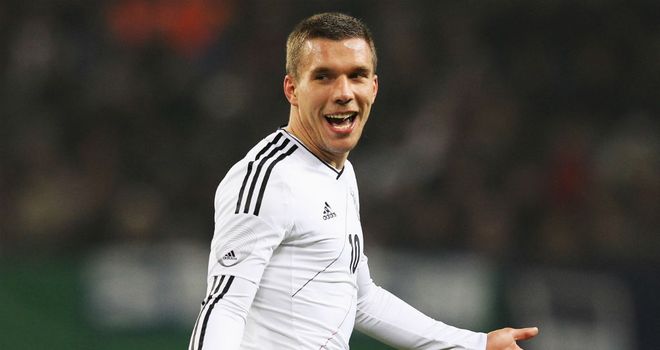 Lukas Podolski: Helped Germany to a 2-1 win over Holland
Per Mertesacker has hailed Germany team-mate Lukas Podolski's performance against Holland and has assured Arsenal supporters he has more in his locker.
Podolski,
who will officially join the Gunners from Cologne
at the end of the month, was kept busy on Wednesday evening helping contain Netherlands forward Arjen Robben
as Germany secured a 2-1 victory.
Gunners stopper Mertesacker was impressed by his display, but feels Arsenal
fans will see more of his attacking ability when he completes the switch to North London.
"Defensively it was a great game from Lukas," he told Arsenal's official website.
"He had to cover for Philippe Lahm, with Arjen Robben on his flank, and he did it very well. Especially in the first half, he covered him all the time and it was two against one on Robben.
"I think that was more important than his attacking qualities today. But every Arsenal fan will soon see what he can do offensively."
Respect
The Gunners' star frontman Robin van Persie was on target with Holland's only goal but it was not enough to rescue them from defeat against the Germans.
Despite the long-standing rivalry between the two countries, Mertesacker says he and the striker are on excellent terms, and could be seen sharing an embrace and a chat before the game.
"The goal wasn't enough for Holland, and that's good for us," he added.
"But our relationship is very good, very respectful, and it was nice to see him - we had a good conversation. He's fit and I'm going to be 100 per cent soon, so it will be great to join up again for pre-season at Arsenal."