McCoist ends speculation surrounding his future
Last Updated: June 15, 2012 5:15pm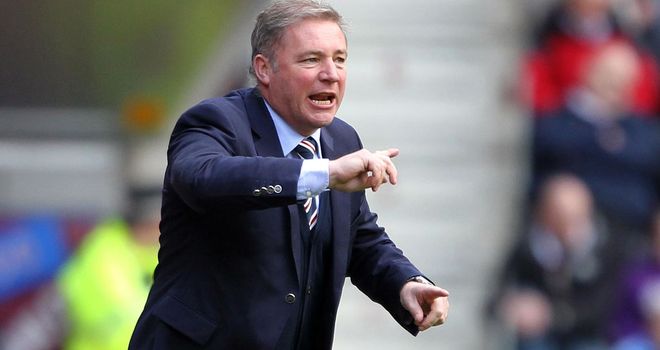 Ally McCoist: The 49-year-old is expected to remain as Rangers manager
Sky Sports understands Ally McCoist will remain as Rangers manager following a constructive meeting with new chief executive Charles Green.
The talks took place on Friday after reports claimed the Light Blues
boss was on the verge of resigning after discovering Green planned to replace him.
Former Sheffield United
chief executive Green's consortium completed the purchase of the business and assets of Rangers
as a newco on Thursday after failure to secure a Company Voluntary Arrangement (CVA) consigned the club to liquidation.
The sale was completed on a day of high drama at Ibrox which began with reports that McCoist was on the verge of resigning and ended with former boss Walter Smith
leading a rival bid for the stricken Glasgow giants.
Smith's 11th hour offer was unable to prevent Green from completing his £5.5million newco acquisition and Ayrshire-born pension fund manager Malcolm Murray was swiftly appointed as Rangers chairman.
It is believed McCoist has now returned to a family holiday that he cut short earlier in the week when administrators Duff and Phelps were informed of HMRC's plans to reject the CVA proposal.
Future
Murray said: "We want Ally to commit, then move forward.
"It's our stated policy that he's an integral part of the club and he's been told that.
"I believe he will be the manager of Rangers next season and we have to make the effort to make that happen. It's what every fan wants.
"We need to get Ally on board as soon as possible to talk to the players, who are away on holiday just now."
Jim McColl, one of the members of the Smith-led consortium, on Thursday night issued a public appeal to Green to sell Rangers to their group.
Pieces
However, Murray indicated that a quick sale was not part of the plan, adding: "There is not an intention to flip the club.
"I wouldn't be involved if there was because I'm here to help mend the broken pieces.
"Remember, Zeus Capital, who are the primary advisors behind this, were Manchester United's
advisor when they floated and they went on to become properly invested in and a global brand.
"These are long term people, rock solid investors.
"They see Rangers as a huge brand that is unfortunately on its knees at the moment.
"The fans deserve a serious apology and an assurance that this is going to be built for the long term."