Nigeria international would like to get his future resolved quickly
Last Updated: June 20, 2012 12:13pm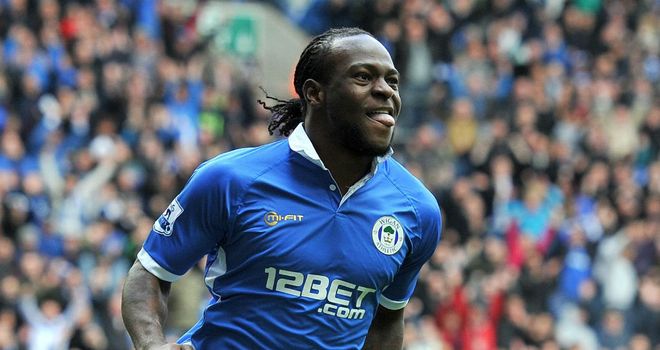 Victor Moses: Wigan winger has been offered a double-your-money deal to keep him out of Chelsea's clutches
Dave Whelan has revealed Wigan have offered Victor Moses a double your money contract and says the club will only sell the winger 'reluctantly'.
The 21-year-old produced some dazzling displays towards the tail end of last season, which coincided with an upturn in form as the Latics escaped relegation.
Wigan have unsuccessfully been trying to agree new terms with the Nigeria international whose contract expires next summer.
Whelan has hinted Moses' agent may have unsettled the former Crystal Palace
starlet and warnedChelsea
it will take more than their reported £4million offer to prise away the coveted attacker.
Potential
"We've made him a very good offer - involving a doubling of his wages - over the next three years," Whelan told the Evening Post.
"It's down to whether the lad himself listens to sense, or whether he listens to his agent.
"The player has to realise that it's his future we're talking about not his agent's.
"Agents want cash out of players, that's all, whereas we want the lad to realise his potential and reach the highest level he can.
"If we have to sell him, we will do so reluctantly - but not for the money that is currently on the table."
Moses
completed a round of international fixtures earlier this month but now wants his future at club level resolved.
"Now that I am done with the national team, my attention would switch to the transfer window," he toldMTNFootball.com.
"I have heard a lot of offers are on the table. First of all Wigan have the final say but for me the highest bidder would take the day but right now I am still a DW faithful."