Legendary Italian coach is prepared to give youth a chance
Last Updated: June 19, 2012 6:16pm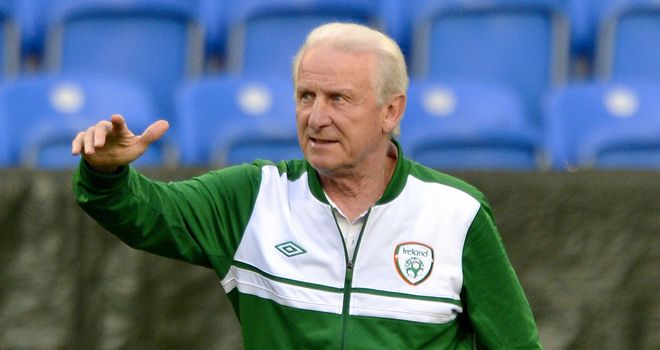 Giovanni Trapattoni: Republic of Ireland coach ready to lead them to World Cup 2014
Giovanni Trapattoni believes his job with the Republic of Ireland is only half complete as he eyes qualification for the 2014 World Cup.
The Irish were humbled in Poland and Ukraine and crashed out of the competition without claiming a single point after three defeats at the hands of Croatia,
Spain and Italy.
Indeed, the displays of the Irish had raised questions about whether the 73-year-old was the right man to lead them into their World Cup
qualifiers in September.
Trapattoni, however, did not amass his collection of honours in the game by walking from challenges and he insists he is going to face this one head on.
"When you cry always about what happened, I think you grow. In your life, you are a student and you have a responsibility to grow," he said.
"I don't cry about what happened yesterday. I have the will for revenge immediately and I know we have these players and we have the possibility to show we are not the team that finished last in the Euros.
Proud
"Obviously, we have a tough (World Cup qualifying) group - Sweden,
Germany, Austria, who are all at the top of the rankings.
"But Spain were top, Italy were third, then there's Russia, Holland, Denmark, Poland...
"I am proud to achieve this qualification with this team, with our country. I am not just interested because I am paid for this job.
"We are proud to be here. Two years ago, maybe without France, we would have also been at the World Cup.
"We started a new job with these two campaigns and we have achieved 50 per cent of our aim by qualifying for the Euros.
"We must defend our jobs because it is true, this, what we have done. It is here. Anything else is words and words fly.
"We have done this."
System
Some Irish supporters are of the opinion that it could be time to integrate some of the younger players in the squad.
The old guard - Shay Given, Damien Duff
and Richard Dunne
- are all considering their futures and could make way for new faces who would reinvigorate the team.
"There are many names. We have three, four, five - [James] McClean, for example, James McCarthy
is another, and he would allow us to change the system," Trapattoni added.
"McCarthy plays in a different position. We have also Gibson, who is already here. We have others at this moment and we follow them.
"Now we can try another system because I need to know they can play in this system."