Centre-back not taking Greece threat lightly
Last Updated: June 19, 2012 5:59pm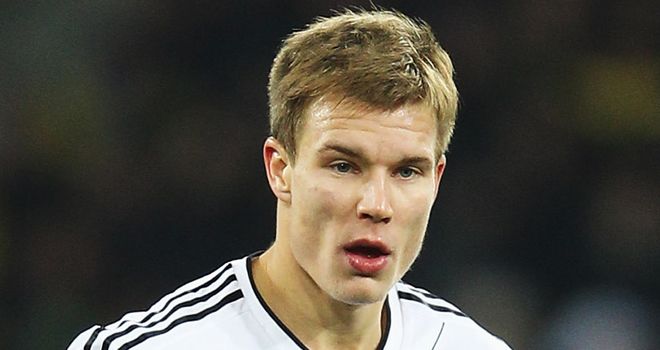 Holger Badstuber: Believes Greece will try and hurt Germany on the counter-attack
Holger Badstuber insists there will be no complacency as Germany prepare to take on Greece on Friday.
Joachim Low's side head into the quarter-final on the back of three Group B wins against Holland, Portugal and Denmark.
While Greece have never defeated the Germans, centre-back Badstuber insists they will not underestimate the 2004 champions, who overcame Russia to progress from Group A.
He said: "They have never beaten us, but the important thing is that we get it right in our heads and don't take them lightly.
"It would be a primary error for us to go into that game thinking we have already won, that would be a major mistake."
Holger BadstuberQuotes of the week
"They have beaten Russia, who had been a good team until then, so we are warned and are preparing well.
"They were practically out and now they are right back in and in the quarter-finals."
The Bayern Munich
defender believes the Greeks will try and hurt the Germans on the counter-attack.
Self-confident
He added: "We have every reason to be self-confident against Greece, but they will be tough to play against and will try and hit us on the counter.
"It would be a primary error for us to go into that game thinking we have already won, that would be a major mistake.
"They aren't seen as one of the game's powerhouses, but have already beaten Russia and they were one of the favourites."
Badstuber believes he and his Borussia Dortmund
partner Mats Hummels have done well at the heart of Germany's defence.
"I think we have done a good job so far," he said.
"Of course we still have room for improvement, like the whole team, but we can be pleased with our defence against teams like Portugal and Holland.
"Maybe our defensive understanding comes from the fact we were both brought up in the same (Bayern Munich) school.
"We are both guys who understand football, this style, this defensive work and we complement each other."
Mertesacker praise
But Badstuber knows they can ill afford a mistake with Arsenal's
Per Mertesacker waiting in the wings.
The 27-year-old Mertesacker missed the last three months of the season after tearing ankle ligaments playing for the Gunners in February.
Badstuber added: "Per is an important element of the group, he is a popular and very experienced player.
"That is what counts and anyone who says his era (in the national team) is over is a complete idiot.
"Per has had a difficult last six months and his injury took a long time to heal.
"Before the Euro he didn't play a real game and that made things difficult for him."