Spanish hit-man happy to return to form
By Graeme Bailey - Tweet me:
@skygraemebailey
. Last Updated: June 16, 2012 12:26pm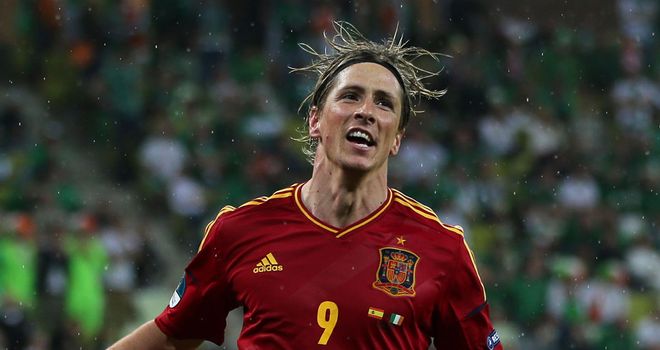 Fernando Torres: Happy to hit form again
Fernando Torres has admitted he hit an all-time low last season and at one point fell out of love with football.
The Spanish striker returned to form for his country in midweek as he hit a brace in their 4-0 thrashing of Republic of Ireland.
It was a big moment for the Chelsea
striker, who at one stage this season was looking doubtful to make the Spain squad for Euro 2012 after he was dropped by coachVicente del Bosque.
"Del Bosque phoned me before dropping me for the Venezuela friendly and I fully understood. I had lost some of my love for being at work," he said.
"I had stopped setting an example to younger players, which is something I was taught to do at Atletico Madrid.
"Being picked for Spain had become a habit. Now it is a prize again."
Speaking about his display in Gdansk, he added: "I was pleased with my personal performance and very happy to have scored but I'm mainly happy because the team won.
"We're confident now because we feel as strong as ever, because we played well. We have to keep playing like this.
"We knew scoring early would set us up well. We needed the comfort that brought us. That got rid of the doubts and opened up the game."