Spanish would happily take Three Lions clash
Last Updated: June 16, 2012 3:40pm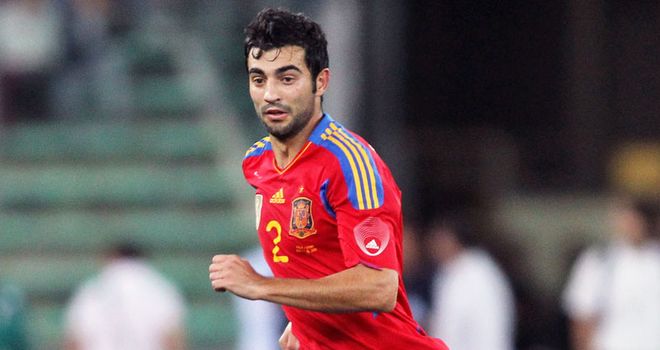 Raul Albiol: Spain stopper wants to avoid France
Spain would rather face England than France in the Euro 2012 quarter-finals according to Raul Albiol and Alvaro Negredo.
At present France and England are the top two in their group, on four points, one ahead of co-hosts Ukraine while Sweden are out of contention after two defeats.
However, Albiol said that, from what he had seen of France's 2-0 win over Ukraine and then England's thrilling 3-2 victory over Sweden on Friday, he knew which team he would prefer to face in the last eight.
"France played really well against Ukraine. They are one of the teams who for me are among the favourites," said the Real Madrid star.
His team-mate Negredo agreed with him and said that a clash with England or Ukraine would be preferable.
"I think that France is a little stronger (than Ukraine and England). France has more quality to my mind," said the Sevilla marksman.
England wrap up their group games against Ukraine on Tuesday needing just a draw to progress while France play Sweden where a point would also suffice if the other match produces a winner.
Denial
Meanwhile, Albiol also denied claims that Spain would look to draw 2-2 with Croatia, which would deny Italy progression, no matter what the Azzurri do against Ireland.
Albiol sought to assuage Italian fears as expressed in their media that they would fall victims to a "biscotto", or biscuit in English.
In Italian it is the term used for an arrangement between two parties at the expense of a third, but Albiol said: "It is clear there will be no pact.
"Each team is targeting victory so as not having to depend on others.
"Now obviously a 2-2 draw is a result that can happen, just as a 1-0, a 0-1 or a 1-1.
"Italy can rest easy: Spain will be looking to win this match just as it always does.
"We are looking for the three points that will assure us of topping the group and I am sure that Croatia will also play this game with the ambition of winning it.
"We are not insulted by these claims. These anxieties are not coming from the Italian team, but from the press.
"It is true that with a draw, we will qualify for the quarter-finals, but we want to win."