World champions impressed by Croatian talent ahead of final game
Last Updated: June 15, 2012 5:44pm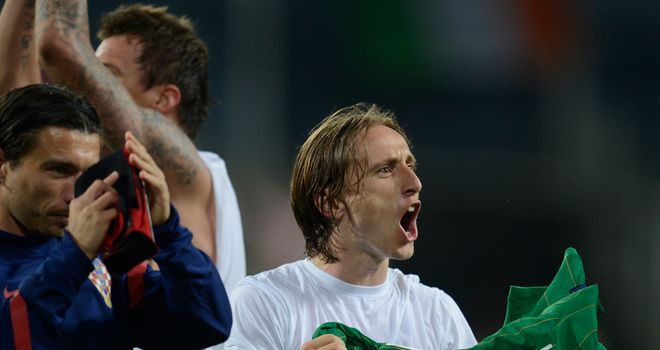 Luka Modric: Spain know Spurs star will be at heart of Croatia's approach
Luka Modric and Mario Mandzukic are the men Spain are wary of ahead of their final game in Group C at Euro 2012.
The reigning world and European champions face Croatia on the back of an emphatic 4-0 win over the Republic of Ireland, but their management team insist they are taking nothing for granted.
Modric was at the heart of a much-improved performance from Croatia in the second half of Thursday's game against Italy, and striker Mandzukic's off-the-post equaliser earned his side a valuable point.
Paco Jimenez, assistant to Spanish boss Vicente del Bosque, knows where the main threats will come from when the two sides face each other in Gdansk.
Dangerous
"Croatia are playing very well and many of their fans have come to Poland and that gives them a lift that makes them more dangerous," Jimenez declares.
"They have good players like Modric and Mandzukic and in defence it has worked out well for them putting Corluka in central defence.
"Modric has impressed me a great deal, he is a fantastic footballer and Mandzukic is playing very well.
"He gets up well to head the ball, he fights for everything and we are going to have trouble controlling him effectively."