Veteran midfielder ruled out with leg muscle strain
Last Updated: June 15, 2012 7:23pm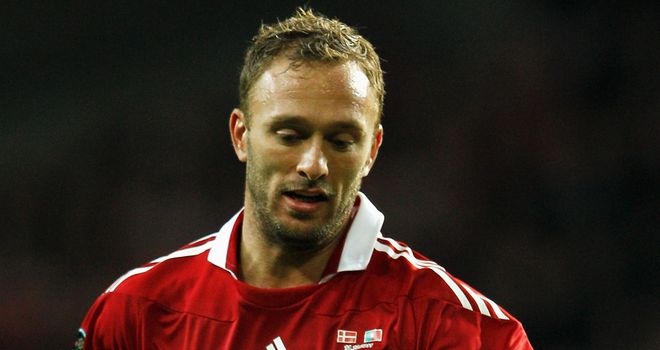 Dennis Rommedahl: The midfielder may have played his last international
Dennis Rommedahl has been ruled out of Denmark's final Group B showdown with Germany due to a leg muscle strain.
The veteran midfielder picked up the injury in the second half of his country's dramatic 3-2 defeat at the hands of Portugal in their last game.
And now head coach Morten Olsen
has confirmed that the 33-year-old former Charlton Athletic
star will miss the clash at the Arena Lviv which could spell the end of his international career.
"It's a question of time as they're muscle injuries, but it seems like Dennis Rommedahl
is out of the game against Germany. We can focus on him again if we get through," said Olsen.
The Danish boss also confirmed that fellow midfielder Niki Zimling is a doubt for the game, but hopes the Club Brugge man will recover in time.
"With Niki Zimling the chances are better, but we probably won't know about him up until the minutes before kick-off."
Zimling, who was badly missed when he went off in the first half of Wednesday's defeat said himself that "things are a lot better."
He suggested that "if my situation continues to progress like today there's a good chance I'll be ready."
A win over the Germans would be a repeat of their famous 1992 final victory in Gothenburg, but would not necessarily guarantee them a place in the last eight.
If Holland beat Portugal then a draw would suffice for the Danes, with Olsen adding: "We are left with the number of points we had hoped for after the first two matches.
"The scenario of our dreams would be to have one more point. That could have been the case, but you don't always have it your way in football."