New Swansea manager admits deal for midfielder could be tough
Last Updated: June 21, 2012 3:23pm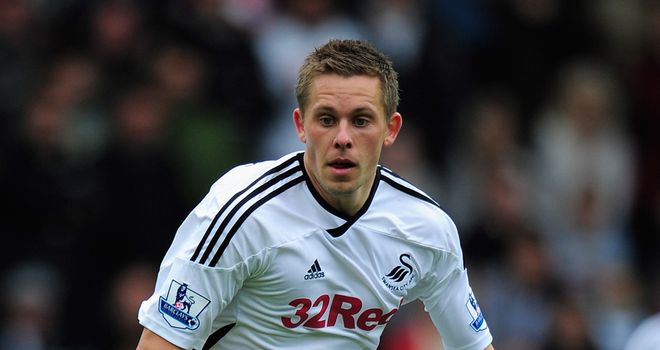 Gylfi Sigurdsson: Future remains uncertain but Michael Laudrup would like to work with him
Michael Laudrup is keen to bring Gylfi Sigurdsson back to Swansea for next season but admits it could be difficult as the situation is out of their control.
Sigurdsson
made a huge impression at the Liberty Stadium on loan from Hoffenheim
during the second half of last term, and the German club have agreed a deal to sell him to the Swans this summer.
However, Brendan Rodgers' switch to Liverpool
has complicated matters and the midfielder could end up following the manager to Anfield.
Laudrup has replaced Rodgers at the Swansea helm and would love to work with the Iceland international, but he remains realistic as he accepts that other clubs have greater spending power.
"I think it is a special case. He did very well here and as far as I know he is with a German club and has a possibility to go to another club, so it is really not Swansea that has the card in hand in this case," said Laudrup.
"If bigger clubs come with a lot of money it is very difficult to compete, but of course I would like him to stay."
A new beginning
Laudrup insists that he will not rush into making any new signings as he wants to give everybody in the squad a chance to impress.
"I have my ideas and have talked a lot to the chairman already, but to sign seven or eight players before starting doesn't make sense," he explained.
"I know one or two positions but maybe it is better to start and then see where you need to improve. I have come as a new manager and there will always be players that surprise you."
Laudrup added: "I would like a new beginning, to come in and see how things are here. Change for change's sake, I don't think that is good."