Ireland's record scorer wants to end Euro 2012 with a win
Last Updated: June 16, 2012 2:38pm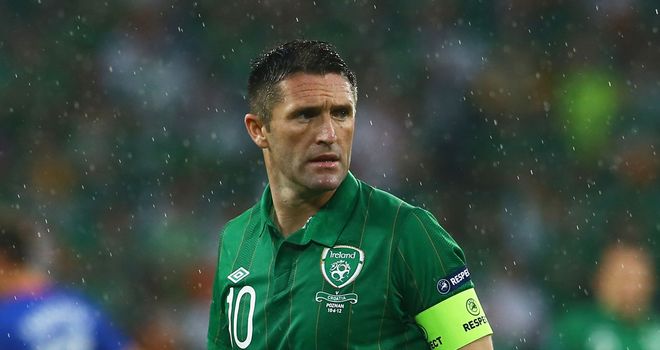 Robbie Keane: Republic of Ireland captain is not currently thinking about international retirement
Robbie Keane insists he is not currently thinking about retiring from Republic of Ireland duty as he focuses on ending the Euro 2012 campaign by beating Italy.
Ireland head into Monday's Group C fixture in Poland already eliminated from the tournament after losing their opening two games to Croatia
and Spain.
The nature of Ireland's exit has prompted suggestions that it is time for a new era to be ushered in, with goalkeeper Shay Given admitting it may be the right moment for him to step aside.
Richard Dunne
and Damien Duff
are other senior figures who may consider their international futures, however, Ireland's record goalscorer Keane
says that has not even crossed his mind at this point.
He said: "First of all, it's not my decision whether any of the players retire, that's their own thing.
"For me, I am just focusing on Monday's game and then after that, I will see. But I am certainly not even thinking for one second about retiring at this moment in time.
"I am fully focusing on Monday's game, and we will see what happens."
Tough game
Meanwhile, Keane is determined to see Ireland put on a positive show against Italy, who must win to have any chance of reaching the quarter-finals.
The LA Galaxy striker added: "We are not going into this game for one second thinking that we are going to let Italy walk all over us, there is no question about that.
"We will go into that game on Monday hoping to go back to Ireland with three points.
"I think the Italian players, knowing a few of them, they know Ireland is not going to be an easy game for them. It is certainly going to be a tough game for them.
"One thing I know for a fact is these players will give 110%."