Striker has no plans for international retirement after Euro 2012
Last Updated: June 17, 2012 1:08pm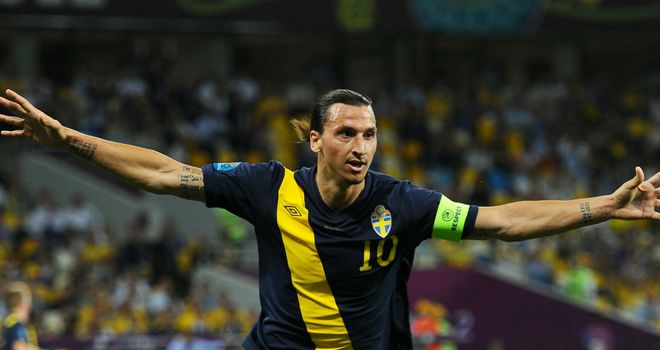 Zlatan Ibrahimovic: Plans to carry on playing for Sweden after Euro 2012
Zlatan Ibrahimovic has declared that he intends to carry on playing international football following Sweden's early exit from Euro 2012.
Sweden
face France in their final group game but they can no longer advance to the quarter-finals after losing to both Ukraine and England.
There may be changes in the future as Sweden build towards the next major tournament, but Ibrahimovic
is desperate to still be involved.
"Absolutely. My future is with the national side," said the 30-year-old AC Milan
striker.
"I will continue to play for them."
Ibrahimovic says he will use the disappointment of this summer to spur him on in the future and try to deliver success to Sweden.
He said: "It means nothing in my mind to think negatively. I think the opposite - we'll keep going. I get angry inside and I get even more motivated.
"It's not positive, what has happened here, but it has that effect on me."
Hard to replace
Ibrahimovic is also hopeful that some of the other senior players in the Sweden squad will stay on, withAnders Svensson,
35, and 34-year-old Olof Mellberg
perhaps contemplating international retirement.
"I hope they don't retire. It's a big loss, they are not the kind of players you replace in 24 hours," he said.
"They're very good guys. They're the guys I know best in the team, they've been here from the very beginning when I came in."
Ibrahimovic maintains that Sweden still have a lot to play for against France as they strive to finish their campaign on a high.
He said: "We'll go for it. We're playing for honour, we are going to bring some points home with us."