Elmander will not feature for Swedes while Elm is in doubt
Last Updated: June 18, 2012 5:31pm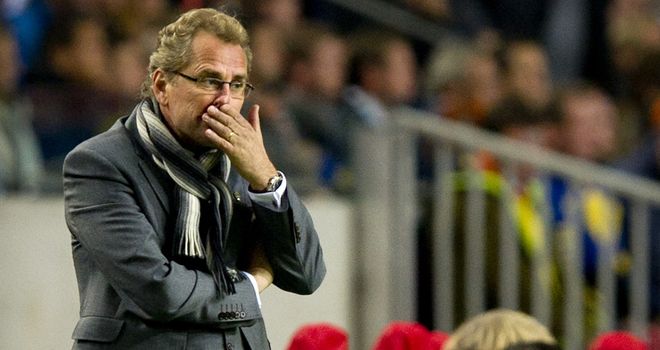 Erik Hamren: Will not call on forward Elmander for Sweden's final game
Sweden coach Erik Hamren has advised England to concentrate on their own final Group D game rather than worrying about him fielding a weakened side against France.
Reports suggest Hamren could play a less than full-strength team against the French on Tuesday night following the Swedes' elimination from the tournament, which could mean bad news for Roy Hodgson's side, who are still battling for a spot in the quarter-finals.
Swedish forward Johan Elmander will be given time to continue his recovery from a broken foot and will not feature, while midfielder Rasmus Elm is ill and a decision on his fitness will be taken on the day of the game.
But Hamren has reminded England if they win themselves in their game against Ukraine, Sweden's match will hold no significance to them.
"Make sure you win yourselves," he advised the Three Lions. "That's the best thing.
"They can concentrate on themselves and we'll concentrate on our own game. Our ambition is to get a good performance and a good result."
Mellberg
Hamren, who has previously said Sweden will be aiming to exit the tournament on a high against Les Bleus, confirmed defender Olof Mellberg would start on Tuesday but his future in the national team is unclear.
He added of the former Aston Villa man, who netted twice in the 3-2 defeat to England on Friday: "I have spoken to him about it and he has said that this is his last tournament, but that doesn't mean he won't play a part in the qualifiers. We'll see what happens."
Midfielder Kim Kallstrom has praised the Swedish fans for their support despite his side's early exit.
He said: "It's a big tournament, we've waited and prepared for it, so for us it's about finishing the job and starting to prepare for the World Cup qualifiers.
"The support we've had from Swedish supporters has been fantastic and there'll surely be lots there again, it's a great source of motivation. We're here to play, even if we can't go through."