Season ticket money ring-fenced, says Rangers chief-executive
Last Updated: June 21, 2012 7:52pm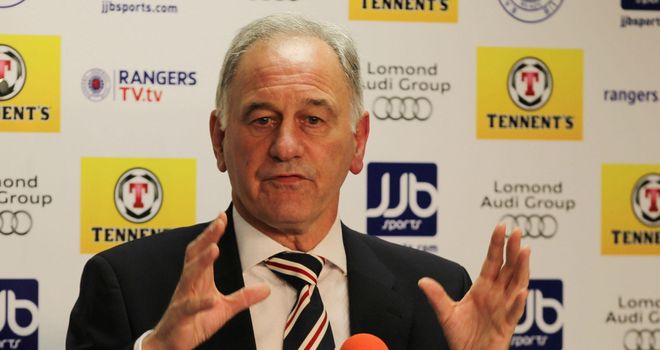 Charles Green: Insists that season ticket money will be protected
Rangers chief executive Charles Green has assured fans that season ticket money will be ring-fenced in a secure account until the issues surrounding the club are resolved.
Green will have to wait until July 4th to discover whether his 'newco' - purchased last week for £5.5million - will be granted entry to the Scottish Premier League when the top-flight clubs meet to cast their votes.
Motherwell have announced they will consult fans via a Well Society ballot, while Hearts have already indicated they will vote against Rangers' application.
Better news for the new regime was a productive meeting between Green and his chairman, Malcolm Murray, and the Rangers Fans Fighting Fund at Ibrox.
The RFFF subsequently released a statement on Wednesday night calling on supporters to rally round the club, renew their season tickets and support the new owners.
Productive
Their rallying call was welcomed by former Sheffield United chief executive Green on Thursday.
He told Rangers' official website: "The chairman and I had a very productive meeting with members of the Fans Fighting Fund yesterday and I believe we have assured them of our best intentions to secure the long-term future of the club.
"We would like to thank them for encouraging fans to renew their season tickets to demonstrate their ongoing support for the manager, his team and the players.
"I can reassure all fans that season ticket money will be ring-fenced in a secure account and will not be used before the current issues surrounding the club, such as what league we will be playing in, are resolved.
"The chairman and I also believe that we - the fans and the club - are stronger together and we want to
thank
the fans for their unwavering commitment to secure the best future for the club."