England drew 1-1 with France in their first game at Euro 2012 on Monday. It was a display of discipline, rather than sparkle. But Sky Sports pundit and former Three Lions international Alan Mullerythinks there were plenty of positives
Last Updated: June 11, 2012 8:50pm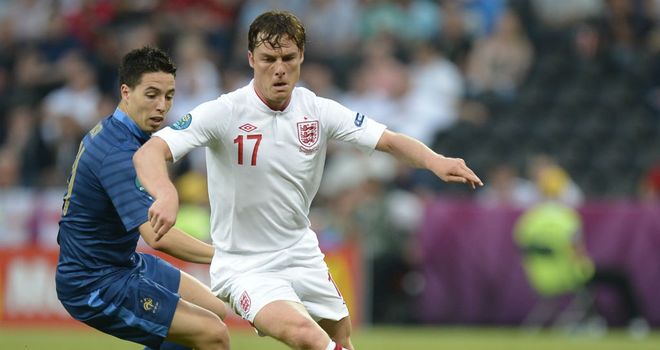 Scott Parker: Midfield hero
It was not what you would call an outstanding performance from England. They defended extremely well - the way they did against Norway, the way they did against Belgium.
They did exactly the same. We scored one goal, but we conceded one today, which was a little bit of bad luck on Joe Hart's
part.
So we have only had one goal in three games against us. We have played a team that is now 22 games undefeated and we have competed and defended very, very well.
Scott Parker
was superb. He throws his body in the way, he chases people down, he is knocking balls here, there and everywhere. He and Steven Gerrard worked hard in the middle of the park, but Parker was outstanding.
Danny Welbeck
worked really hard up front on his own. We probably needed a little bit more fromAshley Young
- we never saw him a great deal - but, defensively, John Terry,
Joleon Lescott
and all the back four looked very, very good. Joe Hart at times looked a little bit dodgy but he is better than that.
Confidence
That result will do us good today. We can now push on again. We have played probably the best side in our group and we have achieved what we set out to achieve.
Come Friday, we might have one or two players who are a bit leggy and Roy Hodgson
may change the side. But if I was him I would say, 'no, the side did the job today'.
We need a little bit more up front, I think, against Sweden
so we can score goals up there and I think that if we can beat Sweden, we'll qualify.
I would pick Alex Oxlade-Chamberlain again. I would play him on Friday. You have got to go away from this result with confidence.
We did not have too many chances but we got a point. It is better than the Dutch. They lost their game even though they had magnificent chances.