Hodgson's men won't be able to train at Donbass Arena
Last Updated: June 17, 2012 11:33am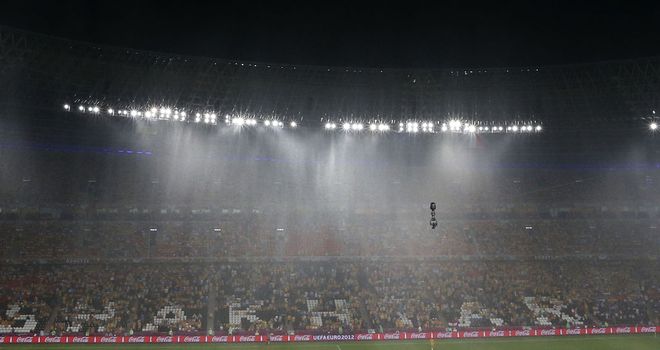 The Donbass Arena pitch has recovered from Friday's thunderstorm, but England will not train there
England's schedule for Monday has had to be revised as they will not be able to train at the Donbass Arena in Donetsk ahead of their Euro 2012 clash with Ukraine.
The Three Lions
take on the tournament co-hosts at the stadium on Tuesday and had been planning to hold a pre-match session on the pitch 24 hours earlier.
However, they have been asked not to do so by UEFA and will instead train at their HQ in Krakow before flying to Donetsk, where Roy Hodgson
and skipper Steven Gerrard
will conduct their normal press conference.
It is anticipated that the England players will embark on a walk-round of the stadium, even though it is only seven days previously that they played there.
Thunderstorm
The decision has been made by UEFA in the wake of Friday's violent thunderstorm in Donetsk, which disrupted Ukraine's match against France.
Although the pitch recovered sufficiently, there has been some damage.
It was feared that the game between France and Ukraine would not be restarted after it was brought to a halt within a few minutes of kick-off.
However, with obvious scheduling and TV broadcast problems, UEFA opted to recommence the game, with France eventually emerging 2-0 winners.
In addition to that final group game, a quarter-final and semi-final will also be held in the stadium, both of which could also involve England.