England winger delighted with goal in win over Sweden
Last Updated: June 16, 2012 10:41am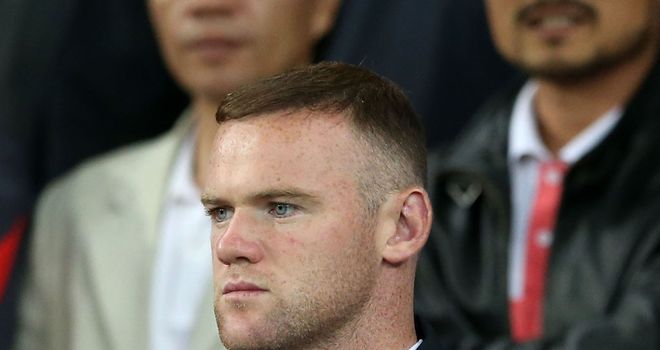 Wayne Rooney: England striker is expected to be recalled for the game against Euro 2012 co-hosts Ukraine
Theo Walcott accepts it will be 'tough' to leave Wayne Rooney out of England's final Euro 2012 group game against Ukraine and feels the striker wants to make up for lost time.
Rooney has sat out the opening two matches of the tournament due to a suspension incurred following his red card in the final qualifier against Montenegro.
In his absence, England started Group D with a 1-1 draw against France before strike duo Andy Carroll and Danny Welbeck both scored in Friday night's thrilling 3-2 win over Sweden.
Though Roy Hodgson says 'all hell would break loose' if he chose not to recall Rooney for Tuesday's meeting with the co-hosts, the England coach is likely to face a more difficult decision than expected.
Walcott says the Manchester United forward is eager to be involved against Ukraine when England go in search of the draw which would be enough to secure a place in the quarter-finals.
World class
"I am sure Wayne will get his opportunity," said Walcott. "He'll want to make up for time he's missed.
"It would be tough to leave him out but that's the manager's decision. We'll see what happens."
Theo WalcottQuotes of the week
"He will want to make it up to all of the lads. He is such a world-class player.
"It would be tough to leave him out but that's the manager's decision. We'll see what happens."
Walcott came off the bench to score England's second goal and then crossed for Welbeck to net the winner with a brilliant back heel.
The Arsenal winger's goal was his first for his country since netting a hat-trick in the 4-0 win over Croatia in Zagreb in a World Cup qualifier in 2008.
His equaliser was reminiscent of the way Cristiano Ronaldo was able to score with dipping shots during his days at Manchester United.
Walcott said: "I have finally got that scoring monkey off my back but I surprised myself.
"During the warm-up I put three goals in the top corner past Jack Butland and he wasn't too happy about it.
"I thought the shot took a deflection which is why my celebration was little bit odd but I've seen it again and it didn't. I didn't know I had that sort of Ronaldo dip in me. I should try it more often.
"To score is special, not just for me but for my family watching back home."