Ireland coach hoping no senior players decide to retire
Last Updated: June 15, 2012 8:26pm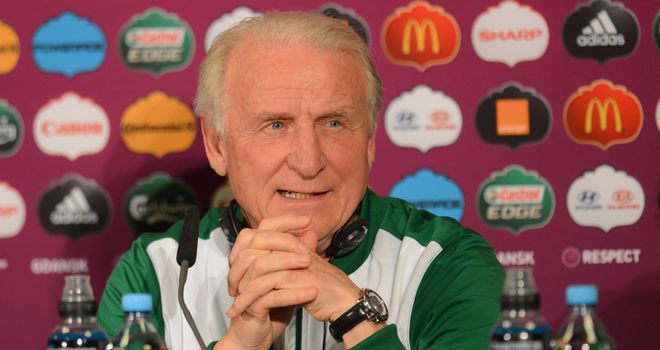 Giovanni Trapattoni: Republic of Ireland coach intends to carry on after Euro 2012 disappointment
Republic of Ireland manager Giovanni Trapattoni insists he has no plans to quit as a result of his side's poor showing at Euro 2012.
The 73-year-old Italian has seen his side beaten by both Croatia
and Spain in Poland to ensure Ireland will not qualify for the quarter-finals even if they beat Italy in their final game.
But Trapattoni, who was awarded a new two-year deal in the wake of the Republic's qualification for the tournament, is adamant he and his coaching team are going nowhere ahead of the World Cup qualifying campaign.
"I think we deserve [to stay]," insisted Trapattoni. "We have a reason because we achieved qualification after 24 years.
Enthusiasm
"If you read the names when we came, see how many players are still in this team and how many players are still in the others.
"That is our right to stay. I have more enthusiasm to stay than you and your colleagues. The Irish people can decide.
"The people yesterday at 3-0 were still applauding, our people, and we must be proud. I repeated today to the players, we must be proud of this country and for our supporters.
"I know your jobs, after 40 years, I know the job of the reporter."
Monday's game against Italy could prove to be the international swansong for the likes of Shay Given,Richard Dunne,
Damien Duff
and Robbie Keane,
although Trapattoni revealed he has had no indication yet that any of them intend to call it a day.
He said: "At this moment, nobody has said to me that they wish to retire. Maybe, but I don't know. I know our captain is proud.
"I don't know, but I think not. We can decide. At this moment, we have a squad which is good enough to continue in this new campaign."