Turks say Spurs and Fulham want striker
Last Updated: June 20, 2012 6:38pm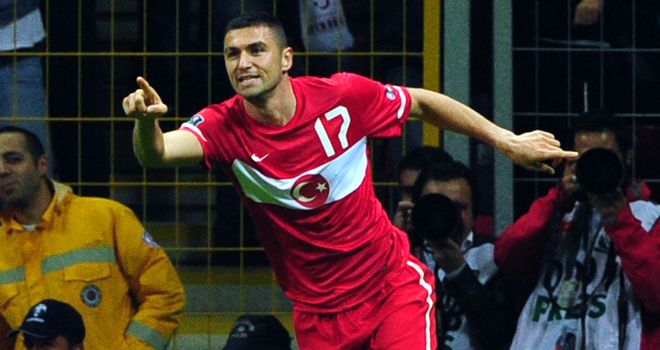 Burak Yilmaz: Linked with a move to England
Turkish club Trabzonspor claim that Tottenham, Fulham and Lazio have all made official offers for their striker Burak Yilmaz.
Turkish international Yilmaz is set to leave the club this summer and a battle is ensuing to land the 26-year-old.
His father has been quoted as suggesting that a move to England is his preference and claimedManchester United,
Arsenal
and also West Ham are keen.
But now his club Trabzonspor have revealed they have received bids and are now waiting for the player to conclude a deal with the club he would prefer to join.
"We have a roadmap for this and we want this done," president Sadri Sener said.
"Lazio,
Tottenham and Fulham
want him and we shall now see."
Decision
Trabzonspor are hoping the player will make a decision before the end of the week.
"I dream of a big European club," said the Turkish international.
"I have talked with the technical staff and president Sener and I told them that my dream is to grow as a player.
"We talked for a long time and everything was calm, like a child turning to his father.
"We will soon know my future and I hope it will be a good club where I play, but I do say thanks to everyone at Trabzonspor."