Italian coach frustrated with performances from City star at Euro 2012
Last Updated: June 15, 2012 6:05pm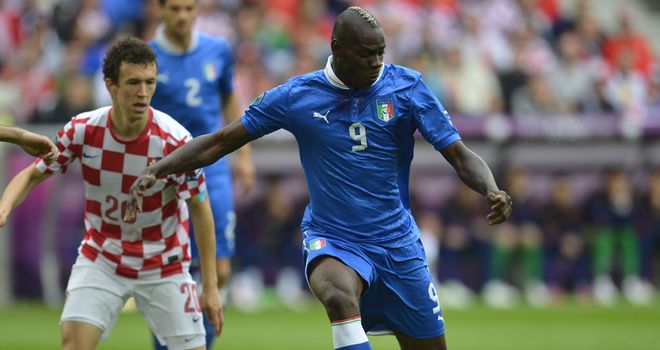 Mario Balotelli: Coach Prandelli wants striker to deal with adversity better
Cesare Prandelli wants to see a big improvement from Mario Balotelli as Italy prepare for a must-win encounter with the Republic of Ireland.
The Manchester City
striker has yet to score at Euro 2012 and has been substituted in both of the Azzurri's games so far.
The 21-year-old looked visibly angry when removed during the game against Spain, and was replaced by Antonio Di Natale
again in Thursday's draw with Italy.
The Italian coach admitted to his frustration with the enigmatic Balotelli,
who may not start Monday's crucial game after Prandelli stated he will make "three or four" changes to his side.
"I shouted myself hoarse for 15 minutes but I didn't manage to correct his positioning," he said.
"He was coming towards the ball but then he didn't hold onto it. Either you come for the ball and hold onto it or you go long.
Difficulty
"If we have affection for this lad we have to tell him these things, the truth, and that's what I do.
"If you want to become great you have to know how to deal with difficulty.
"I'll never abandon him. I played him from the start when the entire press corps wanted him benched. No-one can say 'I' in this team, we need courage, this is a good team.
"With three days to the game, we expect a great reaction from him."
One option would be to start with Di Natale, but fellow striker Antonio Cassano could also be rested, having also been substituted in both games.
Cassano was recently out of the game for five months following heart surgery,
and Prandelli admits he has much to ponder in his plans for a game that Italy must win to give themselves a chance of progressing into the quarter-finals.
"There will be three or four changes. Obviously in the third game, with regards to who I pick, we need freshness. We have no margin for error."