Coach tells Germany not to underestimate Danes
By Rebecca Stephenson. Last Updated: June 16, 2012 7:51pm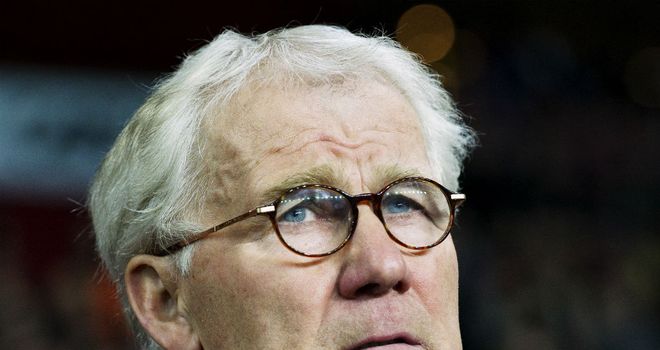 Morten Olsen: Denmark coach believes his side can beat Germany
Morten Olsen believes Denmark can continue their impressive record against Germany and get the win they need to make the quarter-finals of Euro 2012.
The Germans are the only side to have won their opening two games, but the Danish coach thinks they can upset the odds and knock out Portugal and Holland in the process.
Denmark have not lost to Germany since Euro 96, and Olsen has a record of two wins and a draw against the team they face in Lviv on Sunday.
A draw would even be enough to see them through, should Holland beat Portugal in Kharkiv, but Olsen will not be thinking in those terms.
Victory
He said: "We'll be going for victory.
"We are looking forward to it, Germany have shone and must be among the favourites to win the competition. But nothing is impossible.
"They have the 'show' aspect and we have a huge amount of work ahead to stop them, but we have a great team spirit and need that little bit of luck.
"We go into the last game with everyone still hopeful of advancing and you can't get more exciting than that."
Denmark started the tournament with a 1-0 win over Holland before suffering a heart-breaking 3-2 defeat to Portugal thanks to a late goal from Sivestre Varela.
"Over the past week we've had two dressing rooms," Olsen continued. "One euphoric and one full of grave, dark feelings. We're keen to experience the first one again."
Run
But the 62-year-old is refusing to point to his nation's recent good run against Sunday's opponents as a reason for their chances.
He said: "We can't use that, if we haven't lost to Germany that is not important, those games were between two different teams and that is not something we can rely on.
"I'm absolutely sure Germany will not underestimate us as they know that on our day we can beat anybody."