England told they risk red card if they attempt to wind up Italy striker
Last Updated: June 24, 2012 10:56am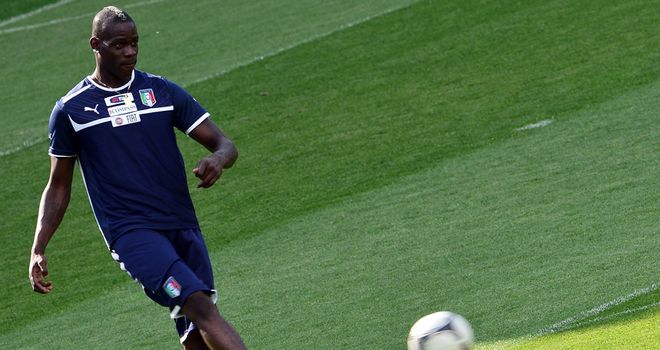 Mario Balotelli: Gary Neville has warned England against trying to rile the Italy forward
Gary Neville has warned England that they will run the risk of a red card if they attempt to light Mario Balotelli's notoriously short fuse tonight.
The margins between success and failure when the Three Lions
take on Italy in their Euro 2012 quarter-final in Kiev are so fine that the loss of a player could tip the balance.
It has been suggested that Balotelli's
fragile temperament could be viewed as a legitimate target, with even Neville
branding the Manchester City
forward "a clown" following his ludicrous red card atArsenal
in April.
Not for the first time since he was appointed to Roy Hodgson's England coaching staff, Neville's forthright opinions have been thrown back at him and he feels niggling Balotelli could prove devastatingly counter-productive.
"If you go into the game thinking 'I'll go and try to wind up Balotelli', you could get sent off yourself," said Neville.
Composure
"It's too big a game. Referees nowadays stamp on every little thing that happens - pulling shirts, standing on people's toes.
"Those days are gone. You are just going to get banned for two, three or four matches."
"If you go into the game thinking 'I'll go and try to wind up Balotelli', you could get sent off yourself."
Gary NevilleQuotes of the week
And England have struggled enough with discipline, specifically the defeats to Argentina
in 1998 and Portugal eight years later that followed red cards for David Beckham
and Wayne Rooney
respectively, to cause themselves more problems.
"In past tournaments, when we have got a player sent off it has been a big problem," Neville said.
"We are concentrating on the way we keep our own composure and discipline and making sure we don't disappoint ourselves rather than what the other team will do.
"I've never gone into a game of football at any level when we've mentioned we will try to wind somebody up."
Very composed
In any case, Neville has seen no evidence at Euro 2012 that Balotelli is going to blow a fuse.
"He has been very composed in this tournament," said Neville. "I've watched a lot of the Italians in the last 48 hours. He plays well with Antonio Cassano up front. They are a real handful.
"Against Croatia, Balotelli was excellent. He made so many good runs down the side.
"With Antonio Di Natale
they have got three good forwards who complement each other.
"It may be a player on the pitch can sense something but the biggest concern about Mario Balotelli for England is not whether we can wind him up. I can assure you of that."