Mutko says there needs to be a serious rebirth of Russian trainers
Last Updated: June 23, 2012 5:06pm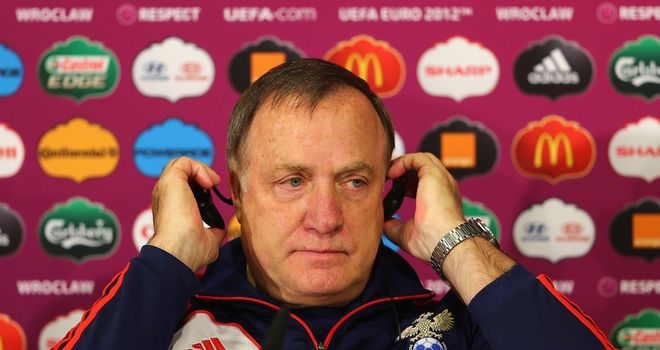 Dick Advocaat: Russia are looking for a new coach after the Dutchman's exit
Sports Minister Vitaly Mutko has criticised Russia's group stage exit from Euro 2012, citing problems with domestic football for their failure.
Dick Advocaat's side failed to make the quarter-finals of the competition after a dramatic 1-0 defeat to Greece in Group A last weekend.
And with the country preparing to host the 2018 World Cup, Mutko believes the domestic game needs major change in the next few years.
"The potential of the team is much greater than this result," he told state television in an interview.
"It is an unsatisfactory result. As a minimum we should have got into the knock-out stage."
Looking as the causes for the setback, he said: "The team was physically not prepared. They were tired. There needs to be renewal."
Rebirth
Mutko noted that the timetable of the Russian domestic season had left them playing several intense club games in a frantic May.
Advocaat, who took over from fellow Dutchman Guus Hiddink as coach in 2010, had already announced before the Euros that he was leaving his post, leaving Russia yet again looking for a new coach.
Pressure is now growing to name a Russian coach for the side but Mutko lamented that there were currently no more than half a dozen Russians working as top trainers anywhere.
"Most of the head coaches at our leading clubs are foreigners. Let's not deceive ourselves.
"There needs to be a serious rebirth of the Russian school of trainers which crumbled 20 years ago," said Mutko.