Barcelona star still haunted by missed penalty against Chelsea
Last Updated: June 23, 2012 11:43am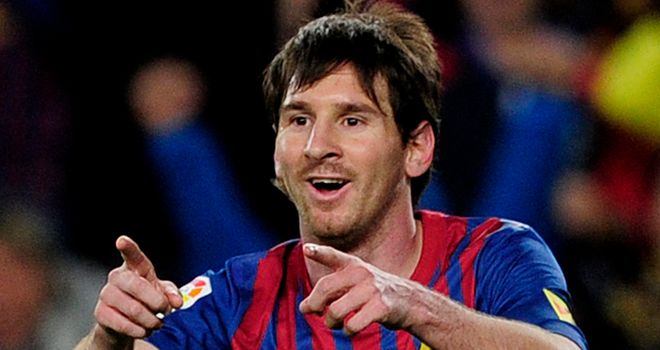 Lionel Messi: Barcelona star says he will not retire until he stops enjoying the game
Lionel Messi believes he has a lot still to learn but says he never wants to lose his passion for the game and the day he stops enjoying football will be the day he retires.
Messi
already sits among the pantheon of all-time greats but he maintains that his philosophy will always be to try and play in the right manner rather than focus on results.
He is proud to be part of a Barcelona
team that shares his vision and, at the age of 24, is looking forward to keeping crowds entertained for many years to come.
"Football is a game. I'm trying to have fun on the pitch, always just to play. That's why I do it. The day I stop having fun is the day I retire," the Argentina
superstar told
The Times
.
"I never want to lose that spark, that passion.
"Today teams are playing more statically, more for the final score than producing good football.
"For them it's more important to win than to play well. We need more players with passion coming up for the good of football."
Grateful
Messi appreciates everything Barcelona have done for him since he arrived at the club as a schoolboy but believes there is still room for improvement as both a player and a person.
"I am playing for one of the best teams in history," he said.
"I'm very grateful for everything I've been able to achieve, for the family I have, for the people who surround me.
"But I always believe better things will come, I want to grow and mature as a person. I still have so much to learn. I am the way I am at every moment. I am not playing a role.
"It makes it easier to be myself. I don't have to watch what I do. I just do what I do. And remember I am only 24 years old."
Terrible
While Messi says his enthusiasm for the game makes him the player he is, there have still been some painful moments in his career.
He admits he is still haunted by the penalty he missed in the UEFA Champions League semi-final againstChelsea
last season, when Barcelona failed to press home their numerical advantage following John Terry's red card in the second leg.
"I felt terrible," he said. "Angry at myself because I knew that at that moment the whole tie was in my hands, but I can't do anything about it now.
"It's past but it was a very tough moment for me and I still think about it."