No.2 hopes Hammers can take advantage against Villa and Swans
Last Updated: June 18, 2012 3:21pm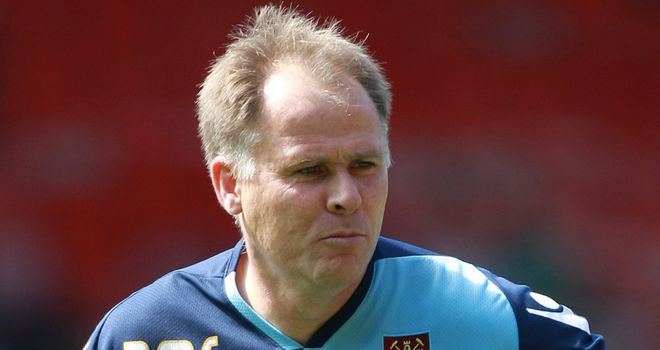 Neil McDonald: Hoping Hammers can make a strong start on return to top-flight
West Ham assistant manager Neil McDonald is hoping the club can take advantage of Aston Villa and Swansea sides still adjusting to their new managers when their Premier League campaign gets under way.
The Hammers, who won promotion back to the top-flight last season, will host Villa in their curtain-raiser on August 18th in what will be Paul Lambert's first competitive game in charge.
The East Londoners then travel to the Liberty Stadium to face the Swans the following weekend, withMichael Laudrup
having recently succeeded Brendan Rodgers at the helm.
McDonald feels Lambert and Laudrup will still be trying to put their mark on their new teams, which could benefit Sam Allardyce's side, and is also glad the club will open their campaign at Upton Park.
He told West Ham's official website: "It's brilliant to have a home game first as when you get promoted you're always looking for a home fixture first.
"Villa have got a new manager so hopefully they may still be trying to work out what he wants and that will be the same perhaps for Swansea in our second game.
"The managers may still be trying to bed in and get their ideas across to the players and which way they want to play and what system they want to play.
"We've got to try and take advantage of that if we possibly can. It's still a difficult start but we're happy we've avoided one of the top four."
Tough
McDonald is hoping the Hammers can make a strong start to prepare them for testing fixtures against potential title contenders over November and December.
"It will be a tough start without a shadow of a doubt but it's a good start," he added.
"Looking to November and December when we play the likes of Manchester City,
Manchester United,
Spurs, Chelsea
and Liverpool
it will be very tough so I think we need a good start and hopefully the first six games will give us a chance to get some points on the board."
The assistant boss feels Monday's release of the fixtures will have whetted the appetite of the Hammers players ahead of pre-season.
"We've only had a short-ish break but I imagine the lads will have seen the fixtures and they'll be ready and raring to go on 1st July," he said.
"We'll have plenty of time for preparation and plenty of time to get the boys fit for the game. We're really looking forward to getting started now."