Former Argentina U20 flattered by interest from Serie A rivals
By Nadia Carminati. Last Updated: June 17, 2012 4:09pm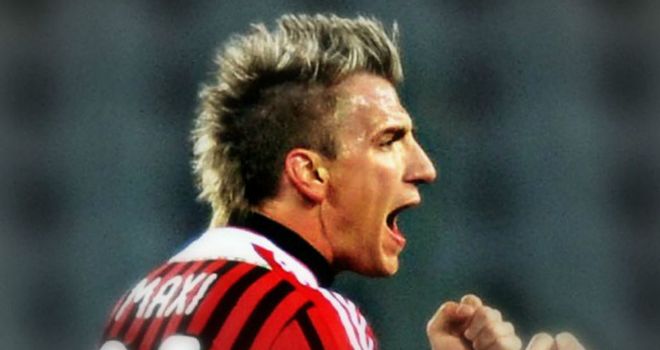 Maxi Lopez: Would like to sign permanently for AC Milan after loan spell
Catania striker Maxi Lopez has admitted his future remains unclear after he ended the season on loan with AC Milan.
The 28-year-old joined Milan in January until the end of the season in a deal that gave the club an option to purchase the formerBarcelona
marksman in the summer.
Yet, the Rossoneri have so far been slow to exercise that clause, leaving the immediate future of the former Argentina
Under 20 international uncertain.
Evaluate
"Me and my family like it in Milan and staying in Italy remains our first choice," he told Sky Italia.
"I would like to stay here, not only for footballing reasons, but also because my sons are starting to adapt to life here.
"But I would have to evaluate the situation if an interesting move abroad arose."
Maxi made eight appearances for Massimiliano Allegri's team last term and notched two goals as they finished runners-up in Serie A.
His displays have also led to reported interest from Parma,
which he admits is flattering to hear.
"I'm pleased because if a team are watching you it means you have done good things," he added.
"Staying at Milan would be great but if I have to leave for another club, then I will. At the moment though, nothing is concrete."