Midfielder lifts the lid on what it takes to be successful from the spot
Last Updated: June 24, 2012 12:32pm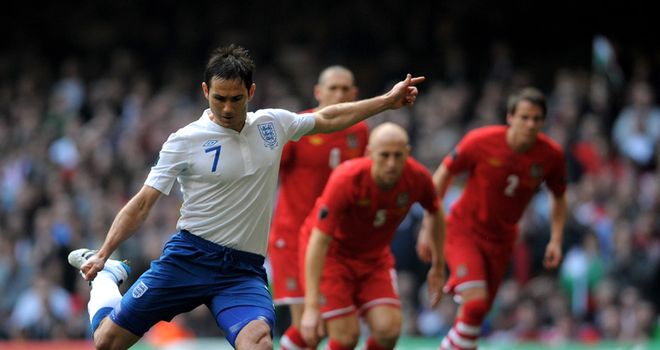 Frank Lampard: Has converted seven penalties while donning the colours of his country
Frank Lampard is hoping England's quarter-final clash with Italy will not go to spot kicks, as he knows only too well how nerve-wracking shoot-outs can be.
The Chelsea
midfielder will be watching on as his international colleagues take to the field against the Azzurri on Sunday, with injury having wrecked his Euro 2012 dreams.
A thigh problem picked up on the eve of the tournament means Lampard's
only experience of European Championship competition to date came in 2004 - when he netted from 12 yards as England crashed out in the last eight against hosts Portugal.
Lampard is, in fact, England's most prolific penalty-taker of all-time, having converted from the spot on seven occasions for his country.
He is desperate for the Three Lions
to avoid the penalty lottery against Italy, but is happy to offer up a few words of advice to those who could find themselves in the firing line at Kiev's Olympic Stadium.
Lampard told The Sun: "It is the most nerve-racking experience in football and you need the balls and the confidence to handle it. The pressure is just so intense.
Pressure
"Taking a penalty in a game is bad enough but, normally, if you miss in a match there's still time to try and put it right.
"In a shoot-out there are no second chances. That's it - it is the be all and end all and that adds to the pressure.
"So does knowing that the eyes of the world are on you as you walk that 40 yards from the halfway line.
"Your mind is racing. You know the penalty taker is always expected to score. You can hear the opposition fans and you know they want you to miss. And you know the goalkeeper will have studied all your penalties and where you like to shoot.
"So it becomes a game of bluff and double bluff. Will you stick with your favourite penalty or will you change?
"The important thing is to make up your mind well before you go forward. You must decide what you are going to do and then stick to it. Don't ever change your mind.
Zone
"I try to go into 'the zone', to block out everything around me and just concentrate on what I'm going to do. Ignore the crowd, the antics of the opposition or the keeper. Block it all out and stick to your plan.
"I remember before we played Portugal in the World Cup
in 2006 I studied their goalkeeper Ricardo and how he dived for penalties. So in the shoot-out I based my penalty on what I thought he would do - and I missed.
"That was a terrible feeling. But anyone can miss a penalty, even Lionel Messi. Luckily, I have done pretty well over the years for club and country.
"I have taken some pretty big ones in my time - not least for Chelsea against Bayern Munich
in the Champions League final right in front of all their fans.
"My toughest for England was at Wembley against Croatia
in a Euro 2008 qualifier in 2007.
"We were 2-0 down at the time and so it was vital that I scored to try and get us back in the match. It was a full house at Wembley and I was anxious not to let the fans down. Thankfully, I scored but it wasn't enough as we lost 3-2."