Bayern Munich midfielder eyes more involvement at Euro 2012
Last Updated: June 16, 2012 6:04pm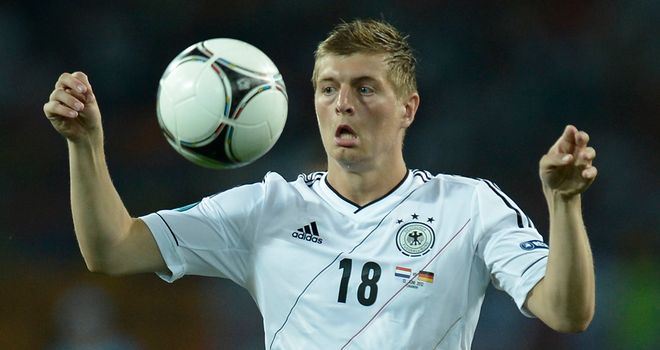 Toni Kroos: Keen for bigger role at Euro 2012
Toni Kroos is unhappy at having to watch Germany's winning start to Euro 2012 from the sidelines.
The Bayern Munich
midfielder has come off the bench for just 12 minutes of action during the victories over Portugal and the Netherlands.
Germany coach Joachim Low has stuck with the same starting line-up for both games, with such talents as Mesut Ozil,
Thomas Muller and Bastien Schweinsteiger getting the nod over Kroos.
The 22-year-old enjoyed a good season with Bayern, concluding with their penalty defeat to Chelsea
in the UEFA Champions League
final, and he thinks he could help further improve his national side's form.
"It's not very satisfying. After the season I have played, it is logical that I want to play," he said.
"We have won twice, but I would not say we have played excellent football."
Kroos' comments have not gone unnoticed by Germany's team manager, Oliver Bierhoff, but the man who secured Germany's Euro 96 victory thinks that players like Kroos should not be content to be out of the side.
Discontent
"The fact Toni has expressed his discontent is not completely crazy, he does have a point of course," said Bierhoff.
"For us, it is important how a player behaves in the team and we see no problems.
"There comes a time when a player produces a flippant statement or expresses his discontent, that's not so bad.
"If players are unhappy when they don't play, it shows they are not here just to pass the time."