England boss will prepare players as normal for Italy clash
Last Updated: June 23, 2012 5:55pm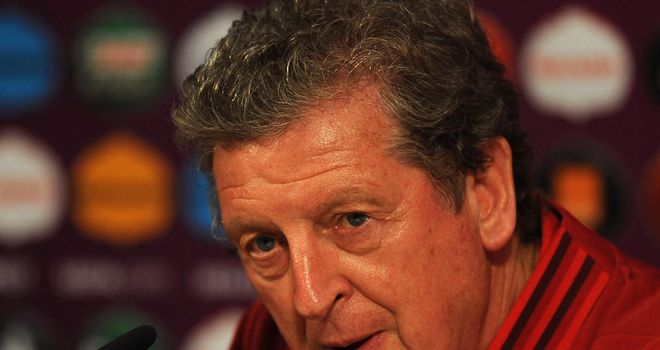 Roy Hodgson: Will prepare his team as usual as they attempt to make history against Italy
England manager Roy Hodgson insists it is business as usual as his squad prepare for their Euro 2012 quarter-final against Italy in Kiev.
It is England's first quarter-final at a major tournament since Sven Goran Eriksson's final game in charge at the 2006 World Cup.
But Hodgson believes the Three Lions
must approach the clash in much the same way they did the group matches against France, Sweden
and Ukraine.
Asked if there was a different mentality required now the knockout stages are underway, Hodgson said: "I'm not so certain that it is such a different mentality.
"In the group stages you always had an element of knockout involved because you realised that if you didn't get a result in your game you could not get through to the knockout stages.
"So I don't think it's going to change our mentality particularly.
"We have to make sure we're ready for the match and that when we go out on the field we're capable of doing what we set out to do.
"We've already had one meeting which was video-based and then tomorrow before we have lunch I will speak to the players and maybe give them some final reminders.
"And then before we leave for the stadium we have our meeting about the set-plays. That's the format we've been following and that's the format we'll continue to follow."
Nasty statistic
England have not beaten a major footballing nation in the knockout stages of a tournament away from Wembley.
That is an alarming statistic ahead of a showdown with the four-time World Cup winners but it is one Hodgson is looking to put to an end.
"It's a nasty statistic because it's a very negative one as far as we are concerned," added Hodgson.
"But you don't change statistics by talking. You change statistics by getting onto the field of play and hopefully winning a game that you maybe haven't done for a long time.
"And then you hopefully put that statistic to bed for a short while and people can't continually bring it out when you're in this type of situation."