Midfielder damages his left ankle in training
Last Updated: June 23, 2012 6:00pm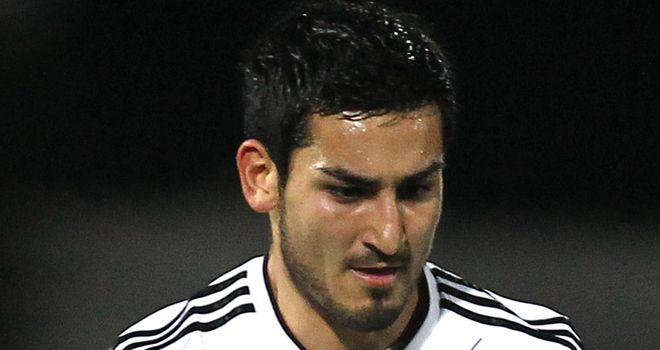 Ilkay Gundogan: The midfielder is a doubt for Germany's Euro 2012 semi-final
Ilkay Gundogan is a doubt for Germany's Euro 2012 semi-final next week after limping out of training on Saturday.
The 21-year-old Borussia Dortmund
midfielder left the afternoon's training session after damaging his left ankle.
Gundogan, who has yet to make an appearance at Euro 2012, had his ankle heavily strapped by medical staff.
"There is nothing torn or broken," said team spokesman Harald Stenger, who said the joint was sprained.
Striker Lukas Podolski was the only other player to miss training as he stayed at the team hotel to rest, having been left on the bench for Germany's 4-2 win over Greece in Friday's quarter-final.
Germany will play England or Italy in the Warsaw semi-final on Thursday with the final in Kiev on July 1st.