Goalkeeper salutes the impact of England captain
Last Updated: June 23, 2012 3:03pm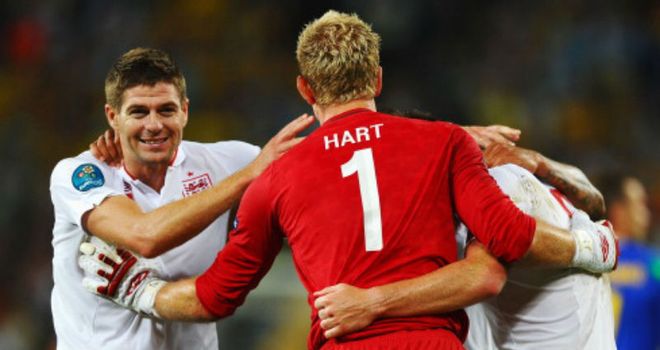 Steven Gerrard: Joe Hart has admitted England captain is an 'inspirational leader'
England goalkeeper Joe Hart has described captain Steven Gerrard as an 'inspirational leader' ahead of their Euro 2012 quarter-final clash with Italy.
Although Stuart Pearce
named Scott Parker
as his captain for the friendly with Holland in February, Roy Hodgson
wasted no time in appointing Gerrard
when he was named Fabio Capello's successor on a permanent basis.
Although Hart
now has a Premier League title medal, an accolade that continues to elude Gerrard, he insists when Gerrard makes his on-pitch interjections, it makes him feel special.
"He's been great," said the goalkeeper, who has been a key man in the side who topped Group D to reach the last eight of the tournament in Poland and Ukraine.
"Personally, he expects a lot of me. When a guy like that looks to you to perform, it means a lot.
"When he turns round and says 'you need to do this' it makes me grow as a player."
Leads by example
Hart has revealed Gerrard leads by quiet efficiency, through his performances on the pitch - he has arguably been England's best player at Euro 2012 so far - and simple words of advice at crucial moments.
"He's an inspirational leader in what he does," said Hart.
"He's not going round looking people in the face and telling people they're not doing the right things, but he leads by example.
"He is a model professional, someone who's been there and done it. He just inspires."