Russian forward feels he has yet to hit his best form at Euro 2012
Last Updated: June 15, 2012 6:35pm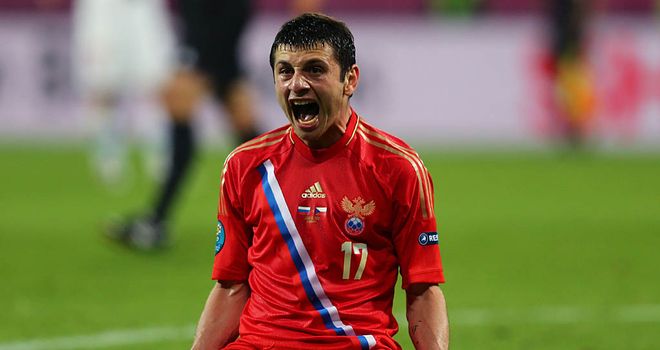 Alan Dzagoev: CSKA Moscow playmaker has been linked with Arsenal after impressing at Euro 2012
Russia playmaker Alan Dzagoev says he will only think about his future after Euro 2012 as he continues to be linked with a move away from CSKA Moscow.
Dzagoev has enjoyed a blistering start to the European Championship and has scored three goals in Russia's opening two games against the Czech Republic
and co-hosts Poland.
The 21-year-old has long been touted as one of the best prospects in European football and he is out of contract at CSKA in December.
Arsenal
have most recently been linked with a bid for the attacker, although Dzagoev has previously suggested he would be interested in joining Chelsea
if he were to move to the Premier League.
He remains keen to eventually play for a different club, but is happy to put thoughts of a transfer on the back-burner until Russia's involvement in Euro 2012 is over.
"Of course, I have the desire to try myself in other clubs in Europe," said Dzagoev prior to Russia's final group game against Greece on Saturday.
"But I'll think about it only after the tournament. Now I'm doing my own job here."
Dzagoev also believes that, despite scoring three times and earning plenty of plaudits, he has yet to hit his best form in the tournament.
He added: "I don't think that I've played two good games. Yes, I scored in the second game, but it wasn't as good as the first game. I lost a lot of balls."