Alexandra boss wants to keep nucleus of his squad
Last Updated: June 17, 2012 4:35pm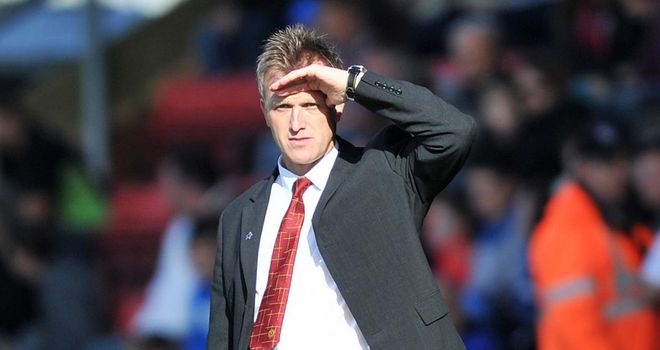 Steve Davis: The Crewe boss has a couple of transfer targets
Steve Davis has revealed he is determined to keep the core of his Crewe squad ahead of the start of the League One season.
The Alex boss has already lost England Under 18 international Nick Powell to Premier League giants Manchester United
in a deal that could be worth up to £6million.
Davis has also seen Lee Bell leave and he could also lose out-of-contract winger Byron Moore
as he looks to rebuild his squad.
"We want to keep the nucleus together as much as possible," admitted Davis in The Sentinel.
"I'm glad we sorted out deals early in the season for Adam Dugdale,
AJ Leitch-Smith and Harry Davis. It's good to have them on board.
"We have had no offers for any of our players apart from Nick Powell and I don't particularly want any."
Targets
Davis is reported to be interested in landing young Swindon Town
full-back Callum Kennedy, who was released from the County Ground last month.
He said: "We have a couple of targets in midfield. I've enquired about one player who is under contract so a fee would be required.
"There are also a few out-of-contract midfielders who we have enquired about who have potential to improve.
"There might be a couple of younger players aged 20 or 21 who perhaps have lost their way a little bit.
"We played against one lad last year who has a lot of talent and we would like to work with.
"I've spoken to a left-back, who is athletic, young, and impressed in League Two and we think we can improve. He wants to come and we hope that will be finalised soon."