Azzurri keeper says Joe Hart can become best in the world
Last Updated: June 22, 2012 6:50pm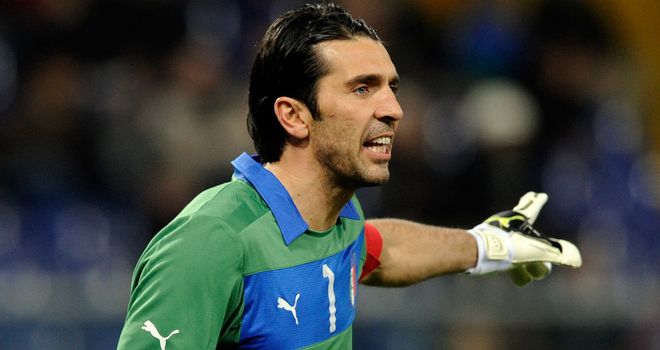 Gianluigi Buffon: Hopes Italy can come out on top against England on Sunday
Italy captain Gianluigi Buffon admits he is not keen on the prospect of a penalty shoot-out against England in Sunday's European Championship quarter-final clash.
England goalkeeper Joe Hart revealed on Thursday that he had already studied videos of penalties taken by Italy's players as part of his preparations for the match.
The potential for this weekend's game to be decided on spot-kicks has been much-discussed in the build-up to the Kiev clash and Buffon
is hopeful the game at the Olympic Stadium
will not come down to that.
"For everyone involved, for the sake of our hearts,
it would be better if we get the job done without having to resort to penalties," he said.
"But if it does then we will just have to deal with it."
Detail
Hart revealed Buffon, who has more than 100 caps, was one of his goalkeeping heroes and the Italian returned the compliment on Friday.
"Together with (Manuel) Neuer and (Salvatore) Sirigu, he can become the best goalkeeper in the world," the 34-year-old said.
"The difference between a normal keeper and a great goalkeeper is the attention to detail, not to commit mistakes during one season.
"The maximum number of mistakes a keeper can commit is two or three."
Hart is not the only player who could crush Italy's Euro 2012 dream on Sunday.
Buffon said: "Wayne Rooney
has charisma and is a leader, dragging the team along with him, whileJohn Terry,
Steven Gerrard
and Ashley Cole
are all players who know how to win."
He added: "I only ever faced England in two friendlies and we won both.
"I've never played them in an important match before. I hope there will be more occasions, but I above all hope we win this one."