I felt I was letting the team down, admits Derby full-back
Last Updated: June 24, 2012 5:11pm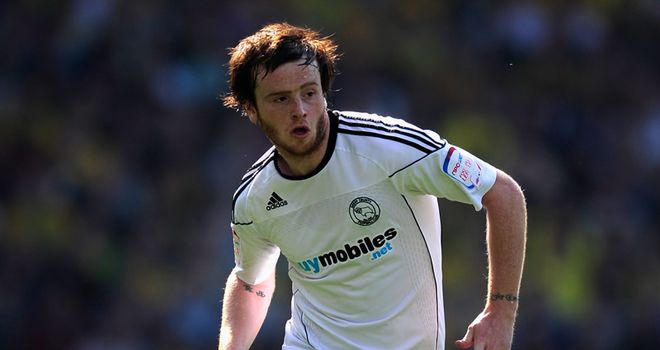 John Brayford: Found it tough missing so many games through injury
Derby defender John Brayford has revealed his frustration at an injury-hit campaign and his target for an improved season next time out.
Brayford picked up a thigh strain in October and then suffered a recurrence of the problem in February so managed to feature just 26 times for the Rams last season.
Although the injury was not the most serious, it proved tough for the 24-year-old to deal with. After all, Brayford had featured in 59 consecutive games for Derby before the setback.
"My injury was a shock to the system that is for sure," he told the club's official website.
"I have never really been in the treatment room before, so it was all a bit different to me.
"I didn't know what to do with myself and I'm not someone that likes being in the gym at the best of times, so to be in there while the lads were out training and playing games was hard to deal with.
"I live for playing football
so not being able to was a huge blow and I felt I was letting the team down, as stupid as that may sound.
"Injuries are part and parcel of football so it's something I have to deal with.
"I know it might sound a bit over the top for a thigh strain but when you're used to playing regularly and then having to endure a spell on the sidelines for the first time in your career, it is hard to come to terms with."
Errors
Derby finished 12th last season under Nigel Clough
after a topsy-turvy campaign in which they twice won four Championship games in a row but also lost five on the bounce and went seven without a win.
Brayford believes Derby can enjoy a better season if they manage to avoid the costly errors that hampered their progress.
He added: "We didn't do too much wrong from a defensive point of view in matches, but we need to cut out the errors that were made and make it harder for the opposition to score.
"We need to make them score rather than giving them a goal. If we can do that, I think we've got more than enough about us going forwards to nick a few goals and win some more matches."